One Step GPS is an American based fleet software provider that offers a range of tracking solutions suitable for a variety of vehicles and assets. They provide tracking solutions that have no contracts, no equipment costs and no cancellation fees. Their solution is 100% web-based and can be accessed via desktop or mobile and requires no software.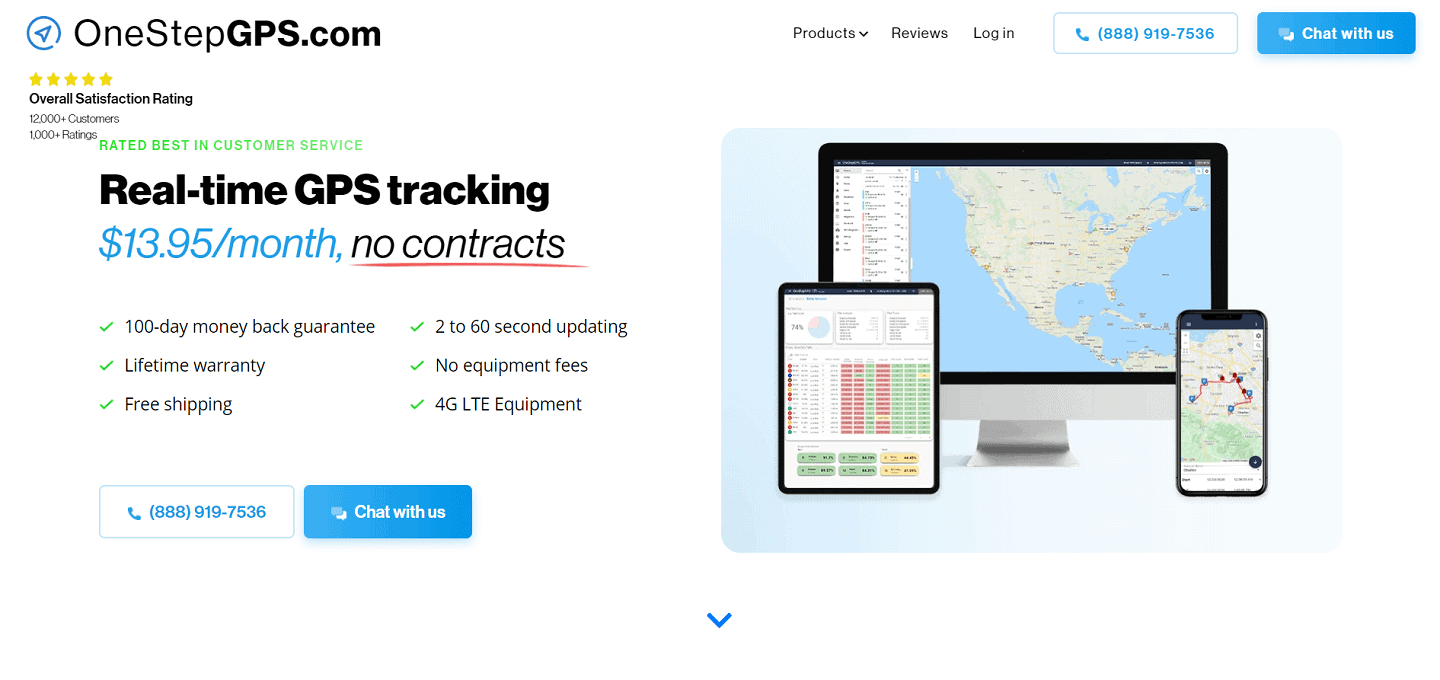 One Step GPS Features & Services
Trucking and ELD
Solar powered tracking
Fleet Tracking
One Step GPS offers a choice of GPS devices with the option of hardwired install or simple plug-in. Their GPS devices can transmit details from the vehicle including its position, speed and engine status. The data is collected and can be accessed via their app available on desktop and mobile.
The GPS tracking devices offer precision with accuracy within six feet and updates occurring every two to 60 seconds when the vehicle is moving. It also stores historical data so that it can be reviewed and analysed.
GPS tracking can also be used to monitor unsafe driving, minimise accidents and fuel waste. You can set up alerts for activities such as unauthorised stops, extended breaks or early finishes to ensure employee productivity.
Electronic Logging Device
One Step GPS offers electronic logging devices (ELD) in addition to their GPS tracking solutions that can simplify operations and streamline administration as you no longer need manual records that are at risk of human error. The information provided gives you compliant data that can be used to better manage your fleet and produce reports.
It provides you with the facility for electronic driver inspection reports that are more efficient and eliminates the need for paper forms. ELDs can also assist with scheduling, tracking overtime, supporting payroll and increasing the visibility of the fleet.
ELD solutions also include all the features included in the fleet tracking products.
Asset Tracking
One Step GPS also offers GPS tracking for assets which includes trailers, heavy construction equipment, mining equipment plus more. It allows you to track your assets to know where they are to maximise utilisation as well aid recovery of them if they are stolen.
They offer both customised and out-of-the-box solutions which are easy to use and install. They interact with the One Step GPS app which is available on desktop and mobile so you can monitor your assets from anywhere. The interactive dashboard allows you to track assets and set up customised alerts.
Asset trackers can also assist with billing and disputes, help plan maintenance and set reminders, and protect against unauthorised use with after-hours alerts and alerts for entering or exiting zones through geofences.
One Step GPS Reviews and Ratings
There are no customer reviews available for One Step GPS on most of the leading review sites covering fleet management. Facebook has the only reviews where there are only six reviews and all reviewers recommend them, although one of the comments suggests that they are not recommending them.
Comments from reviewers include easy to use, competitive pricing, increased visibility of the fleet, good support staff, and one person reported issues with it causing the engine to automatically shut off.
Trustpilot – no reviews
Capterra – no reviews
G2 – no reviews
Featured Customers – no reviews
Facebook – 5/5 (based on 6 reviews)
Pros
Offers a wide range of GPS tracking devices suitable for a variety of vehicles and assets
They offer enhanced trackers that include ELD functionality for improved data recording and reporting
Their solutions can help improve efficiency, driver safety, streamline admin and increase compliance
Cons
They don't offer a complete fleet management solution like some providers do with scheduling and maintenance functionality
They don't include dash cams as part of their solutions
American based with no local customer support
There are very few customers available to gauge independent opinions about their products
Website: https://www.onestepgps.com/
Disclaimer: Fleetlogging.com is a general business information website only. The material and information on this website should not be relied upon for making any business or legal decisions. We cannot recommend any company and/or product, nor assess your suitability for any product and/or company listed here.