Onfleet is a new addition to the industry and does a number of things differently from some of the more traditional fleet management providers. It offers fleet tracking services rather than complete fleet management, with a clear focus on dispatch and delivery operations. Founded as recently as 2012, it has more than 1,000 customers and has been used to complete more than 75 million deliveries around the world.
So what makes Onfleet different? Is the software a good solution for your fleet? Does it offer similar solutions to other fleet tracking software providers? Or would you be better looking elsewhere? Let's take a closer look at this unique package and see how it compares to the more traditional fleet management systems.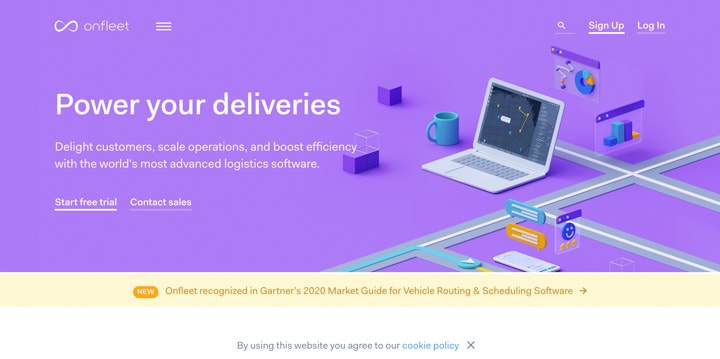 Onfleet Features & Services
Efficient Dispatch;
Route Optimization;
Empowered Drivers;
Detailed Task History and Analysis;
Real-Time Updates;
Effective Delivery Management;
Comprehensive Reports.
GPS Tracking
Onfleet is a trusted "last mile delivery solution." The advanced logistics platform covers 'end-to-end route planning, dispatch, communication, and analytics' as a complete toolkit for delivery. It's a cloud-based software that integrates fleet telematics to improve delivery operations and provide insights that will help your business make better, more informed decisions.
It focuses on simplicity, which some users will prefer. However, that means that Onfleet only offers up a basic GPS tracking solution compared with other fleet management providers. The tracking is ideal for small fleets that focus on a small geographic location. A live map tracks drivers and shows you the status of every job on the board. The same map also allows dispatch teams to communicate with drivers two-way.
However, GPS tracking doesn't track vehicle information or provide driver safety features, which are common with other full-fledged fleet management providers. Neither is there a tracker for fuel usage and consumption. Maintenance scheduling and tracking aren't included either, meaning that the GPS tracking is used almost exclusively for dispatch and reports.
Dispatch and Delivery
Instead, Onfleet excels in slick, streamlined dispatch and delivery operations with a modern user interface that's easy to set up and use. It's a minimalist approach, and the mobile app doesn't require any hardware either. So long as there's a smartphone with the app installed, drivers can do their jobs and dispatch teams can assign work.
We've already mentioned that GPS tracking with Onfleet is focused on the delivery and dispatch system. Driver locations are tracked to help feed the auto-dispatch algorithms, which also takes past driver performance into account before allocating work.
Route optimization is also built into the software as well. The system automatically detects the quickest, most efficient route for your driver to take. But it won't stubbornly stick to it either: with live traffic updates, the system will change the route where necessary and update the driver's map, as well as the customer's predicted ETA. Everything is designed to reduce effort and ensure timely deliveries.
There are plenty of benefits from the customer's point of view as well. Artificial Intelligence (AI) and learning-based algorithms predict accurate ETAs for customers. Interestingly, Onfleet can issue instant delivery alerts to customers, a rare feature. For every update to the driver route, the customer will be able to track real-time locations and plan their activities accordingly.
The same GPS tracking confirms proof of delivery to both you and your customer. Drivers can scan codes and leave unique time prints every step of the way. That way, if a customer has any question whatsoever, you'll be able to provide a detailed time map of where your drivers were, and how their goods arrived at their delivery address.
And if you have any questions for your driver, then you can message them immediately with two-way communication straight to their smartphone. Onfleet Chat is a private and secure platform that has been designed with the driver in mind, and the dispatch screens are designed to make delivery efficient, effective, and reliable throughout your fleet.
Comprehensive Reports and Analytics
Onfleet's system doesn't track as many driver or vehicle metrics as other systems do, but it still takes analytics seriously. This is a priority module in the software, and important delivery and driver data can be found in the Analytics tab.
This tab is entirely data-driven and allows your team to track performance and discover key insights. Several different metrics are recorded, transmitted, and stored in an easy-to-understand format. These include success rates, on-time rates, feedback scores, and distance traveled, to name just a few. Those metrics can be broken down by driver, date, or even by the hour of each day.
Alternatively, this data can be exported to an Excel file for further analysis. Reports are full of valuable data without being overwhelming, and as well as making timesheets a straightforward procedure, they give your team all the tools they need to improve operational efficiency and become a more efficient dispatching unit.
Onfleet Reviews and Ratings
There aren't a huge amount of independent user reviews to consider for Onfleet. That being said, there are roughly 50 reviews on reviewal platform Capterra and they're overwhelmingly positive. With an average score of 4.6/5, users are pleased with the organization and automation of the software. Many users have saved time simply by using the software and noticed an improvement in driver efficiency as well. One or two users lament a poor customer service team, and certain users mention that it takes some time to understand how to make the most out of the graphs in the reports.
G2 scores are slightly less impressive, with an average score of 3.9/5 from 11 reviews. Interestingly, the majority of the reviews are positive. Users are pleased with the way the software plans delivery routes, and enjoy a more efficient delivery operation. ETA seems to be appreciated, and users enjoy the user-friendly interface.
There are, however, some complaints from a single 2* review. This seems to drag the score down, where the user complains about a 'glitchy' software that constantly needs to be restarted.
Rob Watts of PC Mag came to the following verdict:
"Onfleet has some decent reporting features. It also wins points for usability. Those looking for a more traditional fleet management software will want to look elsewhere, though."
Matt d'Angelo of Business.com had a similar take:
"Onfleet is an intuitive platform that's ideal for local fleets. While it is simple and easy to use, its features likely can't be scaled for large and regional trucking operations."
Jitendra Soni (TechRadar), however, was slightly more positive about the capabilities of Onfleet:
"Onfleet offers a unique value proposition for its clients, and is great for hyperlocal delivery companies, with many strengths in that regard."
Capterra – 4.6/5 (based on 48 reviews)
G2 – 3.9/5 (based on 11 reviews)
Pros
A well-designed and simple user interface;
Effective tools for clever and efficient dispatch and delivery;
Powerful analytics and insights to help your fleet spot opportunities and reduce the bottom line;
Little hardware required as well as a minimalist and user-friendly software product.
Cons
Missing many standard fleet telematics features;
No dedicated ELD solutions;
A clear focus on dispatch and delivery without consideration for other important fleet management products and services.
Website: https://onfleet.com/
Disclaimer: Fleetlogging.com is a general business information website only. The material and information on this website should not be relied upon for making any business or legal decisions. We cannot recommend any company and/or product, nor assess your suitability for any product and/or company listed here.