Pedigree Technologies is a web-based software solutions provider that is based in Fargo, USA. They provide software that helps businesses to track, monitor and diagnose high-value assets. They provide a OneView platform that assists mobile workers to collaborate and communicate with the business. Their systems give businesses greater visibility of their operations and can assist with decision making. They cater for small, mid-size and national businesses.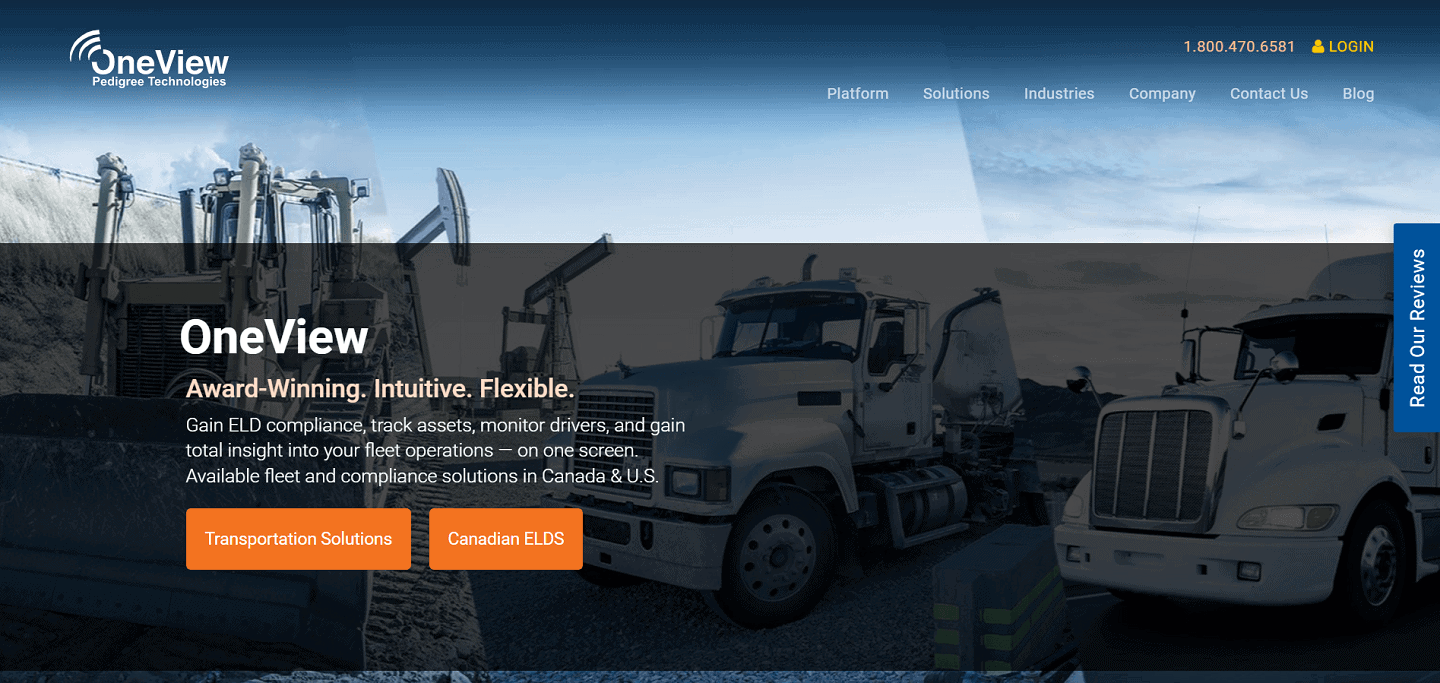 Pedigree Technologies Features & Services
Cameras
Dispatching
Electronic logs
Electronic work orders
Equipment management
Maintenance
Tire pressure monitoring
Asset Tracking
OneView Asset Tracking enables you to see the location and status of all high-value assets using GPS tracking software. The information is stored on the OneView platform which is accessible from anywhere on any device and historical data is available. It allows you to track, monitor and manage both mobile and fixed assets.
Their solution allows you to create customised dashboards, set up automatic alarms by email or text, create landmarks and geo-fencing, and run detailed reports. The solution is scalable, functionality can be added as needed, and you will receive support from an Account Manager.
CameraView
Pedigree Technologies offers dash cams and dual dash cam solutions which are plug and play technology. These cameras allow you to capture recordings of critical events such as accidents, airbag deployment, or upon driver initiation.
They allow you to monitor your fleet at the push of a button and they can capture road or driver-facing video recordings. It integrates with the OneView platform to enhance asset tracking and improve safety.
Dispatching
Part of the OneView platform the Dispatching Software is a tablet application that enables businesses to share job information with field operatives and improve routing efficiencies through a centralised GPS navigation portal.
The Dispatching Software allows businesses to make real-time changes to fleet routing and update drivers instantly and safely with two-way messaging. It can also help in streamlining documents and communications with drivers to improve the efficiency of routing, scheduling and logistics.
Electronic Logs and Work Orders
Digitising your processes and paperwork can help improve efficiencies and two solutions can help your business do this.
Cab-Mate Electronic Logging Solutions (ELD) is part of OneView which is a user-friendly e-log compliance solution. They offer a choice of packages which provide flexibility and a range of costs from providing your own device to a device included.
Their ELD solutions can record critical data including mileage, driving hours, fuel receipts and vehicle inspection reports. The devices can be used for two-way messaging, dispatching or electronic work orders as well.
Electronic Work Orders is another solution which can be incorporated into the OneView platform to help manage job tickets, directions and work orders. Electronic job tickets and electronic work orders give workers access to all the critical information and forms they require at their fingertips.
Field operators can access customer forms and complete them on a tablet with signature and image capture, then send them instantly back to the office through the OneView platform reducing paperwork and increasing billing efficiency. It also includes two-way messaging. Electronic Work Orders also integrate with electronic logging and dispatching.
Equipment Management
OneView Equipment Management allows you to know where your equipment is and how long they been running. This can assist you in completing more jobs and reducing downtime. You can remotely track, monitor and manage mobile and fixed assets and run reports on their usage data to see their utilisation and dormancy. You can also track yard movements including entry and exit times.
The software allows you to create customised dashboards, set up alarms by email or text, create landmarks and geo-fencing, and run detailed reports.
Fleet Management
OneView Fleet Management software provides a safe, compliant and efficient fleet operation solution. It brings together all your fleet information on the OneView platform to help you track, monitor and manage your fleet and drivers in real-time effectively.
The Fleet Management software can assist in reducing fuel costs, assisting efficient fleet dispatching, reducing downtime, and improving customer service through better knowledge of your fleet location and dispatching. It can also improve driver safety with driver analytics and scorecards, and customised alerts such as high speeds or excessive idling.
Fleet Maintenance
The OneView platform can also allow you to manage fleet and equipment maintenance that can help you to reduce downtime and repairs which can save you time and money. It can allow you to record the maintenance history and activities of your fleet as well as set up alerts when maintenance is required.
The data that is collected can be analysed to spot trends and reoccurring issues as a preventative service and actionable reporting. Scheduling of maintenance can be done based on usage or time.
The software can include tyre pressure monitoring to improve fuel efficiency and lifespan of the tyres which can be remotely monitored, and alerts can be set up.
Pedigree Technologies Reviews and Ratings
There are reviews for Pedigree Technologies' OneView on three of the leading customer review sites for fleet management although the vast majority of these are found on Featured Customers. On Featured Customers, there are 777 testimonials and 531 case studies with an overall rating of 4.7 out of 5.
Capterra only had two reviews which gave OneView an overall score of 4.0 including ease of use, customer service and value for money, and 4.5 for features. G2 has 10 reviews with an overall score of 4.3 out of 5, an ease of use rating of 8.5 out of 10 and 7.7 out of 10 for quality of support.
Positive comments included that it is easy to use and install, provides a good oversight of vehicle health, maintenance status and updates are useful, the customisable dashboard is great, and good customer service.
Negative comments included time-consuming set-up, customer service could be improved, some signal issues, unit failures occurred, and interface could be improved.
Trustpilot – no reviews
Capterra – 4.0/5 (based on 2 reviews)
G2 – 4.3/5 (based on 10 reviews)
Featured Customers – 4.7/5 (based on 1,308 reviews)
Facebook – no reviews
Pros
Provides a broad range of vehicle management and maintenance solutions that are modular in design so you can build your ideal solution
Customisable dashboards and actionable reports give great insight into your fleet and aid decision making
Can support the digitisation of your fleet and logistics to reduce downtime and create efficiencies
Offers a free demo of the software solutions
Cons
Some users had issues with signals or unit failures resulting in data not being captured
Set up can be time consuming
Based in America
Website: https://pedigreetechnologies.com/
Disclaimer: Fleetlogging.com is a general business information website only. The material and information on this website should not be relied upon for making any business or legal decisions. We cannot recommend any company and/or product, nor assess your suitability for any product and/or company listed here.