Quartix was founded in 2001 and they offer vehicle tracking systems which are used around the globe. They have a range of customers including fleet managers and insurance companies who benefit from their vehicle tracking devices in business sectors including construction, trades, transportation, security and distribution. Over 20,000 fleet customers use their device around the world in eight countries and more than 600,000 vehicles have had their vehicle tracking system installed.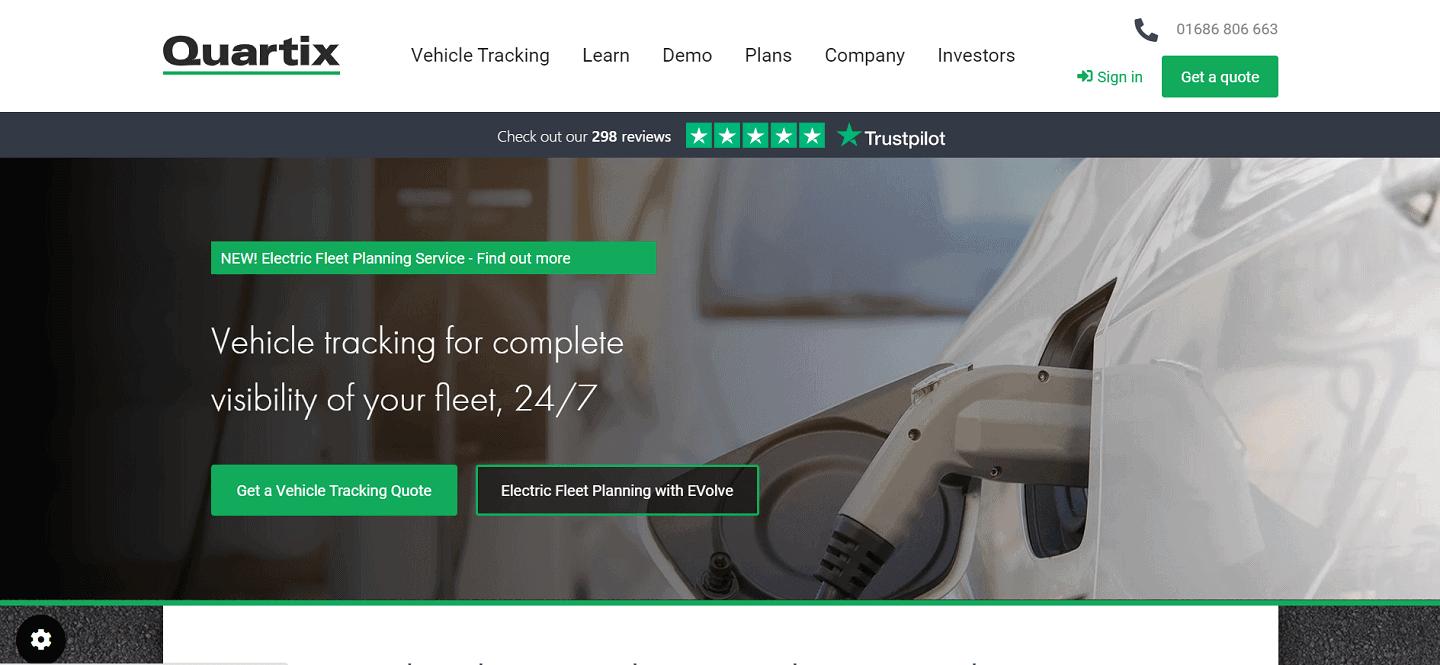 Quartix Features & Services
Quartix only offers vehicle tracking services for businesses.
Vehicle Tracking
Quartix vehicle tracking software allows you to track your vehicles, manage them, and improve driver safety and efficiency. The software is accessed over the internet so is available on any device from anywhere with no additional software required. Integration with MyFleetLive camera range is now available to record event footage with dual lens capability to record both the road and driver.
The software allows you to track your vehicles 24/7 and you can get activity logs emailed to you. It can be used to identify your best drivers and promote safe and fuel-efficient driving to increase the efficiency of your vehicles and reduce incidents. Vehicle tracking can also help you to boost your fleet productivity by maximising their efficiency through better route planning and identifying issues. You can set geographic zones and rules with alerts to help understand and track vehicle movements better.
The vehicle tracking software also can produce a range of simple to use reports that can help you identify and track any trends, issues and help you to make sense of mileage and fuel costs. It can also reduce the number of administrative tasks saving your business time and money.
They offer a range of vehicle tracking devices and installation options which include engineer installed, hard-wired devices through to easy to install self-installation plug-in devices.
Quartix Reviews and Ratings
There are a lot of customer reviews for Quartix across four of the customer review sites for fleet management which are largely positive.
Trustpilot has an overall score of 4.8 out of 5 with 89% of reviewers rating them as excellent and only 4% rating them as bad. The reviews on Trustpilot are from individuals as well as businesses so they may not accurately reflect the service received by businesses.
Capterra only has seven reviews which have the lowest average score with an overall score of 3.6 and ease of use scoring the same. Customer service scored 3.0, features 3.4 and value for money 3.2.  G2 only has three reviews which are positive with an overall score of 4.2.
Featured Customers has the largest number of customer reviews and is very positively rated with an overall score of 4.8 out of 5 with 1,108 testimonials, 947 case studies and 34 customer videos.
Positive review comments include easy to set up, competitively priced, reliable service, quick to respond to issues, good customer service experiences, allows you to group vehicles by department, reporting allows detailed analysis, and great at managing maintenance and compliance.
Negative review comments include contract issues, self-installation problems, GPS is sometimes a bit out, user management isn't simple, customer service can be slow, received several bad units, the platform is not as user-friendly as it could be, cancellation fees, and they don't offer cameras yet.
Trustpilot – 4.8/5 (based on 298 reviews)
Capterra – 3.6/5 (based on 7 reviews)
G2 – 4.2/5 (based on 3 reviews)
Featured Customers – 4.8/5 (based on 2,089 reviews)
Facebook – no reviews
Pros
They offer a range of vehicle tracking solutions which include a hard-wired solution and plug and play self-install options
Vehicle tracking with utilisation dashboards and a range of fleet management tools to help boost fleet productivity
Allows analysis of driving styles to help promote safe and fuel-efficient driving habits
Cons
They only offer vehicle tracking software and no other complementary software to assist fleet managers like many other providers
Users have expressed some issues with GPS locations and unit problems, but this is a minority of feedback
Self-installation of hardware can be difficult for some people
Website: https://www.quartix.com/en-gb/
Disclaimer: Fleetlogging.com is a general business information website only. The material and information on this website should not be relied upon for making any business or legal decisions. We cannot recommend any company and/or product, nor assess your suitability for any product and/or company listed here.