QuicSolv is an American-based software developer that also has development offices in India. They offer a range of products that assist businesses in managing their operations and tracking various aspects. This includes production planning, pallet tracking, security patrol guards management, employee tracking and monitoring, cold storage warehouse management, yard management and asset tracking.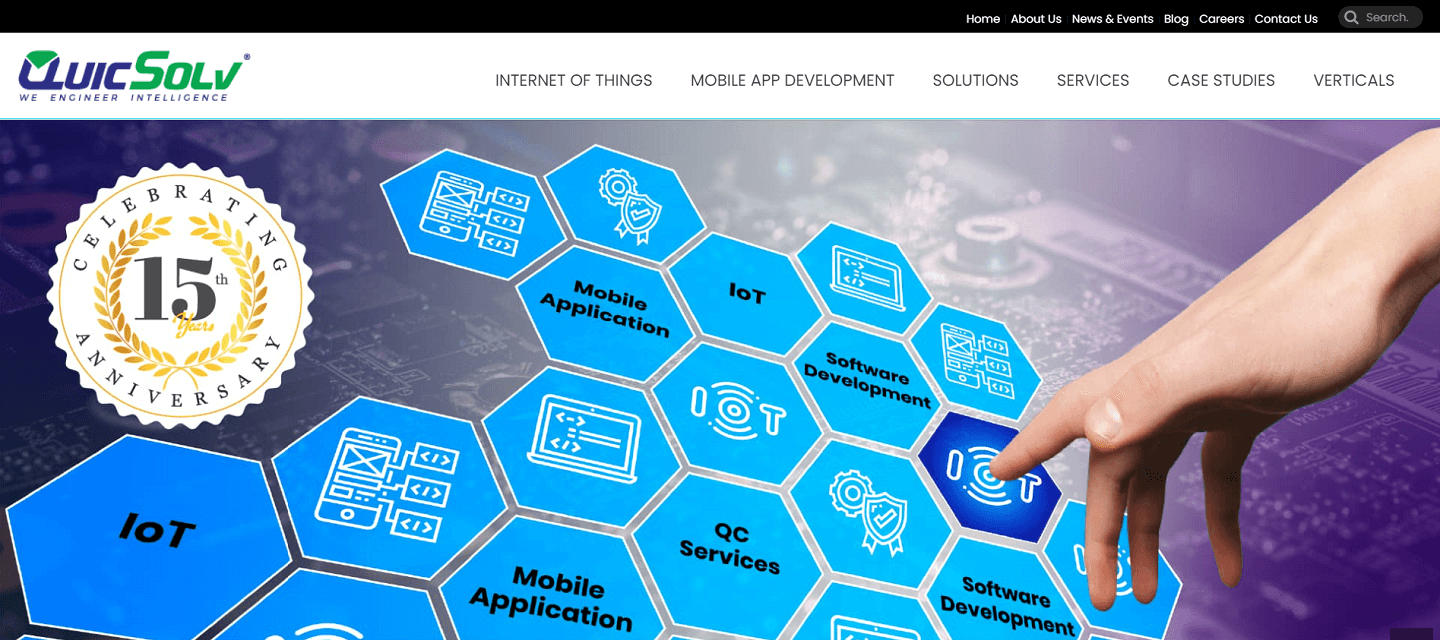 QuicSolv Features & Services
Asset tracking
Employee tracking and monitoring
Warehouse pallet tracking
Cold storage warehouse management
Yard management
Asset Management
QuicSolv offers Internet of Things based solutions for asset tracking which includes a variety of different types of assets. They allow you to provide your asset with an identity that you can track throughout its lifecycle. You can manage your assets remotely from anywhere in the world through the web-based dashboard.
They provide a modern tracking system that is designed to help you better utilise your assets and ensure that assets don't get lost or unaccounted for. The information collected about the assets provides valuable inputs about your business operations and enables you to optimise your business.
Their asset trackers can track both people and equipment or machines and the information collected can be mapped. The asset trackers can increase productivity, reduce costs, create better operational efficiency, provide complete visibility of your assets and assist in improving customer satisfaction.
Employee Tracking and Monitoring
QuicSolv offers employee tracking and monitoring solutions that can help improve your business productivity. Their trackers can assist with ensuring that your employees are working, determining variable pay, complying with data security and more.
They provide real-time tracking to ensure employees and contractors are at the right locations. It can also assist with safety and security by ensuring that employees don't go into areas they shouldn't and that they can send SOS alerts.
The trackers can also assist with tracking social distancing and sending reminders as well as send contact tracing reports if an employee is infected with Covid. Employee tracking is more accurate as it removes human error and can assist with time tracking and payroll.
Warehouse Pallet Tracking
QuicSolv provides a real-time location system that allows you to monitor the location of pallets in your warehouse so that you know where your stock is at all times. This type of tracking can assist with productivity, efficiency, safety and profits.
You can access information on your pallet locations on the dashboard or a map of the plant to give you a visual picture of all their locations. The pallet tags are connected using Bluetooth positioning and tracking. You can allocate locations to the pallets and be alerted if they leave the location.
QuicSolv Reviews and Ratings
There are no customer reviews for QuicSolv on the leading review sites that are suitable for fleet management solutions.
Trustpilot – no reviews
Capterra – no reviews
G2 – no reviews
Featured Customers – no reviews
Facebook – no reviews
Pros
They provide a range of asset tracking solutions that are managed through a web-based dashboard
They provide solutions that assist with warehouse management and cold storage
They offer employee tracking and monitoring solutions that can assist with increased productivity and HR administration
Cons
They don't offer wider fleet management solutions that can help more effectively manage fleets
They don't offer dashcams or driver behaviour monitoring
No independent customer reviews so no impartial information about their products or services
Website: https://www.quicsolv.com/
Disclaimer: Fleetlogging.com is a general business information website only. The material and information on this website should not be relied upon for making any business or legal decisions. We cannot recommend any company and/or product, nor assess your suitability for any product and/or company listed here.