DriverConnect, from Rand McNally, is a highly capable fleet management platform that allows teams to track assets, monitor driver performance, and remain compliant. It includes a world of features within a single platform, suitable for fleets of all sizes.
Since 2010, Rand McNally has focused on developing innovative, practical solutions for both professional drivers and fleet management teams. But do its products meet the needs of fleet professionals? Is its GPS tracking accurate, and are the HOS and ELD features easy-to-use? We discuss Rand McNally's services below.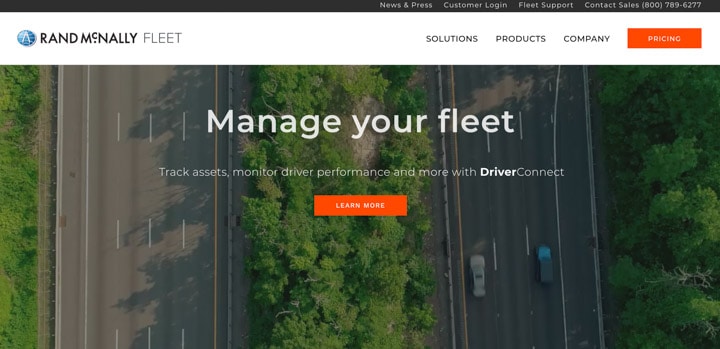 Rand McNally Features & Services
DriverConnect;
Fleet Vehicle Tracking;
Navigation;
Routing (MileMaker & IntelliRoute);
Messaging & Workflow;
Vehicle & Driver Analytics;
HOS & E-Logs;
IFTA Reporting.
DriverConnect
DriverConnect is a cloud-based telematics platform. Is has been developed from the ground up, using decades of research and relationships with drivers and fleets. Rand McNally patented this product in 2010, aiming to combine its award-winning navigation technology with driver-focused features through a durable telematics platform.
The fleet management system succeeds in combining GPS tracking, IFTA reporting, HOS compliance, driver and vehicle analytics, navigation, and other services within one integrated system. DriverConnect is a complete fleet management solution that is flexible and adaptable: the mix-and-match approach makes it suitable for fleets of all sizes.
Firstly, a range of different fleet tracking hardware makes DriverConnect suitable for both vehicles and assets. Trackers like the AssetTracker B100 are battery-powered and only send location updates intermittently. The ELD 50, on the other hand, synchronizes with the driver's cell phone by using cellular data and Bluetooth.
The app – installed on the driver's phone – automates simple tasks and makes access to important information straightforward. DVIR inspections can also be performed through the app, saving needless stacks of paperwork and stamps. Instant messaging can also be used to streamline the workflow and communicate efficiently.
Even IFTA reporting is possible, as drivers can quickly upload fuel receipts to the app. This tamper-proof technology reduces human error and, on top of that, the data is immediately available in the DriverConnect web portal for office teams to review.
The instant communication between the driver app and the office platform means that every activity, event, and delivery is fully mapped and tracked. From job dispatch and routing all the way to journey events and fleet compliance, DriverConnect integrates every aspect of fleet management in one powerful product.
Routing (MileMaker & IntelliRoute)
Rand McNally also offers mileage and routing software. This software is suitable for fleet management use but is also widely used in other industries such as shipping and carrying.
This time, the focus is on the product in the staff room. In particular, the product helps accounting and operational teams to remove errors, improve mileage accuracy, and ensure that mileage charges are accurate. Mileage breakdowns for each asset help to build driver and vehicle profiles. It aligns driver logs and removes human error, helping to keep fleets compliant. Fuel tax records are automatically audited as well.
That being said, this product also benefits assets on the road. Customized routing improves fuel consumption and optimizes dispatch and delivery. Since the software establishes intelligent routes, there is also a reduction in idle time.
Vehicle & Driver Analytics
As a result of capturing so much activity on the road, Rand McNally's fleet management system also makes it possible for businesses to build a detailed picture of vehicle and driver analytics.
The main advantage of up-to-date and accurate vehicle analytics is the reduction in unplanned lay-off time for your assets. Preventative maintenance ensures that fault codes are captured and recorded. Critical issues are immediately flagged, allowing your office team to be proactive and prevent costly repairs.
And, as well as improving your fleet's efficiency with vehicle and driver analytics, Rand McNally's solution also helps to protect your drivers on the road. Driver analytics helps your team monitor driver behavior. Reports clearly display any road violations and risky maneuvers. Once that information is accessible, you can coach better behavior and set goals to track driver progress.
HOS & E-Logs
As with many other fleet management products, Rand McNally's system also includes the legally required electronic logging of hours. Hours of Service (HOS) logs remove paperwork, eliminate human error, and keep drivers within safe working hours.
Driver status is displayed by-the-minute, and alerts are automatically issued when limits are being reached. This reliable technology helps your team avoid costly fines.
Rand McNally Reviews and Ratings
Unfortunately, there are no user reviews for the entire Rand McNally fleet management platform on unbiased, impartial websites such as TrustPilot or Capterra. Where other companies have hundreds or perhaps even thousands of user reviews, Rand McNally has not committed to a dedicated reviewal platform.
There are, however, product reviews of both the TND740 IntelliRoute and the TND730 IntelliRoute software and the respective user devices on Amazon.com.
TND740 IntelliRoute – 3.6/5 (163 ratings)
TND730 IntelliRoute – 3.1/5 (318 ratings)
Users regularly praise the driver hardware, complimenting its magnetic attachment, sleek design, and suitability for in-cabin use. The GPS routing is also praised by the majority of users, with many of them mentioning their appreciation for how much easier it makes navigation.
However, some users have complained about hardware that has a surprisingly low life expectancy. Along with a high initial price and some software faults, certain users decided to switch to other fleet management platforms.
Overall, Rand McNally offers a user-friendly and powerful fleet management solution, although their reviews would suggest that the customer service must be improved. We look forward to summarising more Rand McNally reviews on impartial, unbiased websites.
Pros
A smooth user interface that is reactive and starts up quickly;
A compact, sleek design for in-cab equipment;
Intelligent GPS and effective routing software;
A user-friendly fleet management platform for both drivers and office teams.
Cons
Some users complain of driver screens that become faulty within less than a year;
GPS routing is sometimes inaccurate, taking drivers the shortest way no matter how impractical it may be;
Poor customer service response;
GPS maps that are slow to update and accurately reflect new roads.
Website: https://fleet.randmcnally.com/
Disclaimer: Fleetlogging.com is a general business information website only. The material and information on this website should not be relied upon for making any business or legal decisions. We cannot recommend any company and/or product, nor assess your suitability for any product and/or company listed here.