Rhino Fleet Tracking is an American-based GPS fleet monitoring solution provider that offers a scalable fleet management platform. They can track and maintain your vehicles and assets from small to large fleets. They also offer custom design and integrated solutions for OEM, resellers and roadside assistance companies. Their solutions are used across the United States and many other countries across the world.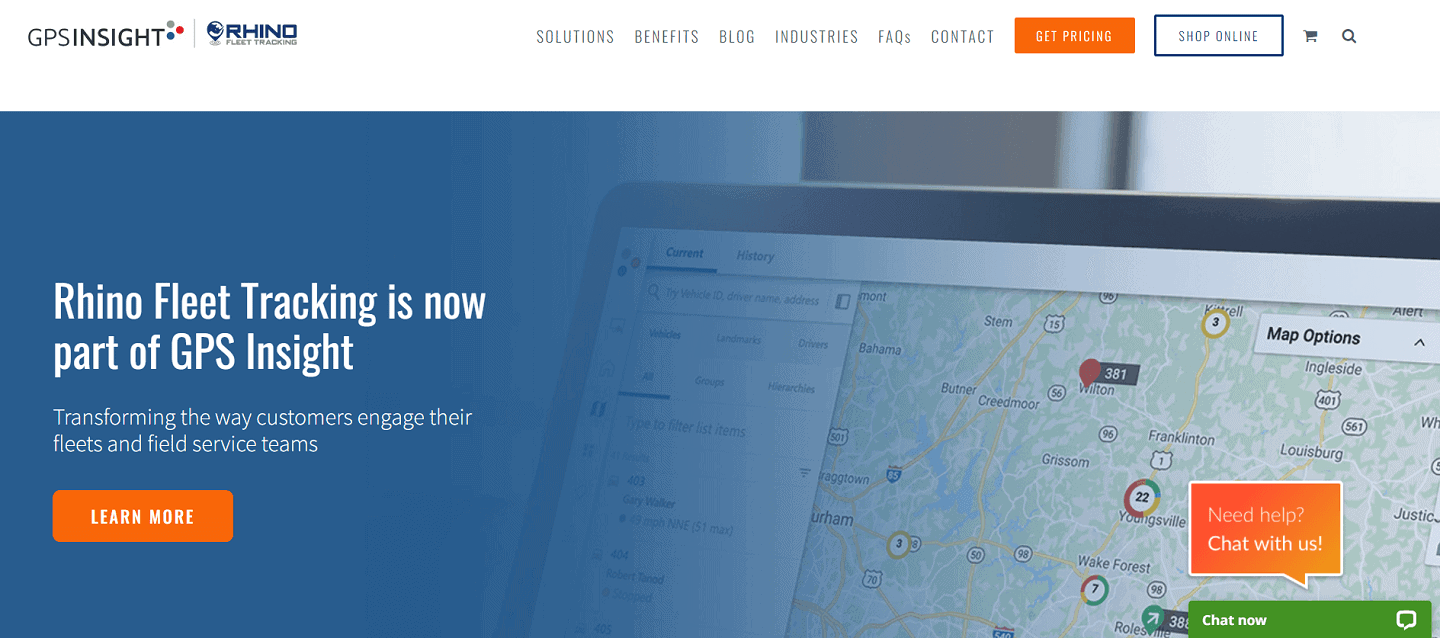 Rhino Fleet Tracking Features & Services
Dash cameras
Fleet tracking
Trailer and equipment tracking
Dash Cameras
Rhino Fleet Tracking offers a Rhino Drive360 Smart Camera which gives you a 360-degree view from the cab of your vehicle. The dash camera has been designed to be easy to install and has motion-based event detection or driver-initiated recordings.
The dash cameras provide real-time video footage with night vision and video backup. The video can help support driver behaviour evidencing excessive acceleration, braking and turning, and reduce unsafe operation of vehicles. The camera also has a GPS location tracker included and can be used for in-cab alerts about safety.
You can view videos in 180-degree interior or exterior views or have a 360-degree view that you can click and drag to move around the view. Having dash cameras can help make your vehicles safer, improve driving, protect drivers against false claims and reduce policy premiums.
Fleet Tracking
Rhino Fleet Tracking offers fleet tracking solutions suitable for trucks, trailers, vans and other vehicles as well as equipment. Their GPS tracking system helps fleet managers and business owners to better manage their fleets, improve communication, increase profits and improve security. They utilise Google Maps to display information in real-time on a map view.
With the fleet tracking software, you can track your fleet from a desktop, tablet or smartphone using their app. From the fleet tracking dashboard, you can track vehicles, monitor for exceptions, set service alerts, see the fleet status, and more. This can include geofence alerts, speeding alerts, track stopping times, and hours alerts. The software also provides dispatching, messaging, estimated arrival times, IFTA reports and elogs.
It can provide detailed field reporting showing speed, stops and mileage for active vehicles and historical data. This information can be used to create more cost-effective routes and increase vehicle efficiency.
Trailer and Equipment Tracking
Rhino Fleet Tracking offers a range of trailer and equipment tracking devices with a choice of plug-in and wired vehicle trackers with a range of power solutions including battery, externally powered with battery backup and solar powered. They cater for trailers, containers, equipment, service trucks and vehicles.
Their tracking systems are cloud-based with real-time tracking on Google Maps. You can set up alerts for movements and geofences to find out when assets are moving or where they shouldn't. You can review historical data so that you can see asset utilisation and reduce fuel costs.
Asset tracking software enables you to have a complete overview of your assets and can improve security as well as assist in recovering assets if they are stolen.
Rhino Fleet Tracking Reviews and Ratings
There are some reviews available on several of the leading review sites covering fleet management although there is not a large number of reviews on any of these sites. Capterra has the highest number of reviews at 59 with an average overall score of 4.6 out of 5. The average scores were 4.7 for customer service, 4.6 for ease of use and value for money, and 4.5 for features. However, these reviews are a few years old and may not reflect the current product or company performance.
There is only one review on G2 which is only average rated at 3.5 out 5 due to the product not quite doing what they would like or lack of knowledge on the product capabilities.
Facebook has a high overall review score of 4.5 out of 5 with most reviewers recommending them, although again many of these reviews are old.
Positive review comments include good at monitoring driver habits, storing more data than others, great reporting, good value, easy to install, increased productivity, flexible plans, and good customer service.
Negative review comments include data has to be downloaded before it is lost as it is only stored for so long, issues with units, problems installing and setting up, poor customer service, contract terms not clear and some glitches.
Trustpilot – no reviews
Capterra – 4.6/5 (based on 59 reviews)
G2 – 3.5/5 (based on 1 review)
Featured Customers – no reviews
Facebook – 4.5/5 (based on 32 reviews)
Pros
Offers a range of fleet and asset tracking solutions that can be plug and play or hardwired in and a choice of power options
Provides a dash camera with a 360-degree view with a choice of playback options
Can aid driver behaviour improvements and alert drivers to poor habits
Cons
Doesn't include maintenance scheduling
American-based company with no known support outside of the US
Although customer reviews are largely positive they are low in number and tend to be from a few years ago or longer
Website: https://www.rhinofleettracking.com/
Disclaimer: Fleetlogging.com is a general business information website only. The material and information on this website should not be relied upon for making any business or legal decisions. We cannot recommend any company and/or product, nor assess your suitability for any product and/or company listed here.