SkyBitz is an American based business that is a subsidiary of Telular Corporation which is part of AMETEK Inc. They are an end-to-end asset management solution business that helps businesses to automate workflows and processes using intelligent data and devices. They have been delivering telematics devices for over 30 years in the oil and gas, transportation and logistics, and industrial markets. They offer trailer tracking and tank monitoring solutions to help businesses improve the efficiency of their fleet.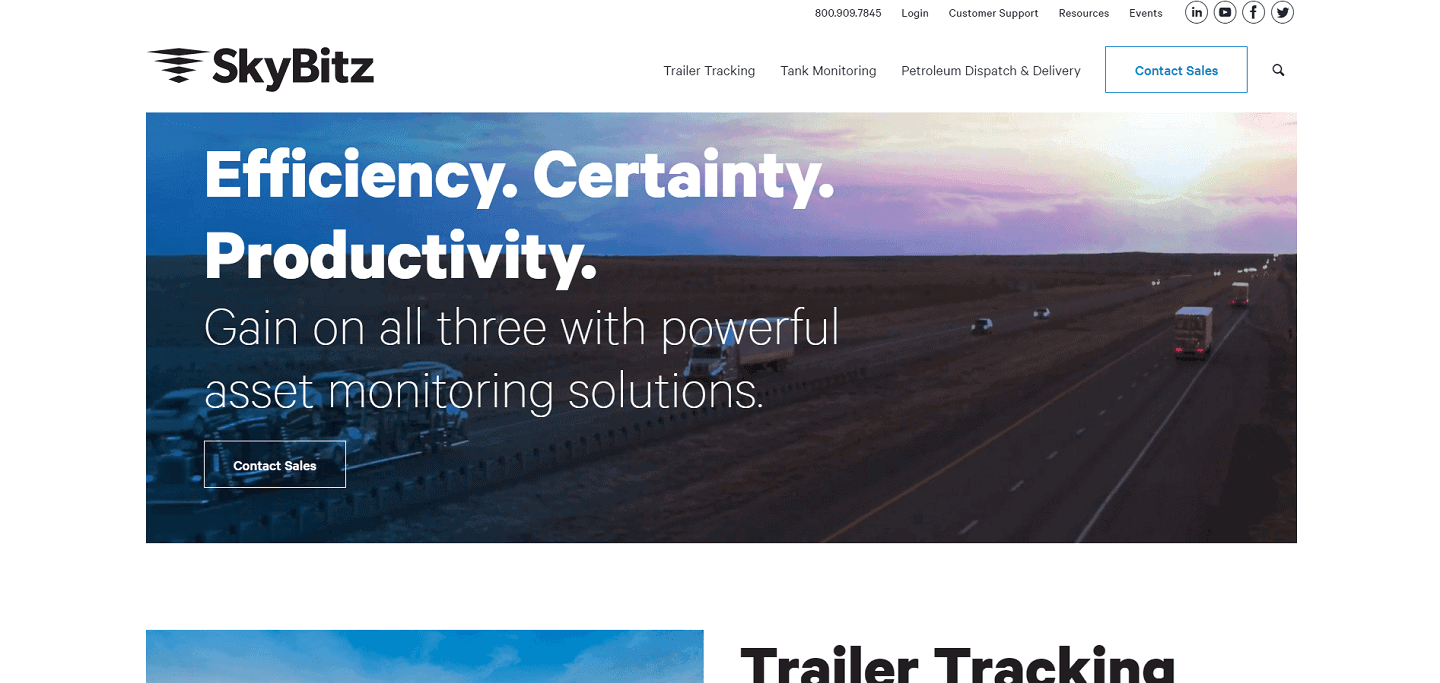 SkyBitz Features & Services
Trailer tracking
Tank monitoring
Petroleum dispatch and delivery
Trailer Tracking
SkyBitz offers trailer tracking solutions that help businesses to track their vehicles, consolidate their inventory, reduce cargo theft and streamline operations. Their trackers are suitable for dry van trailers, flatbed and box trailers, intermodal chassis, intermodal containers, refrigerated solutions, frac tanks and powered/non-powered equipment. They provide a mobile app to allow you to access the data from anywhere at any time.
Their trailer tracking utilises Google Maps and smart tracking sensors to provide actionable information and can integrate with TMS systems. It can assist you in improving operations, increase driver efficiency and improve the security of both your trailers and the cargo. They provide field data about your vehicles that can help track your cargo as well.
They offer rugged GPS devices and a range of battery options including solar rechargeable. They provide a pre-built dashboard that enables you to monitor your fleet and help optimise cargo capacity and highlight which are not meeting targets. You can also set up alerts by email or text for geofences.
Tank Monitoring
SkyBitz offers tank monitoring suitable for large bulk storage tanks, mini-bulk storage tanks, IBC tanks/totes, underground tanks and propane tanks. Their trackers cater for agriculture, corrosive and non-corrosive chemicals, diesel, gasoline, liquid and compressed gases, lubes and water.
Their tank monitoring provides real-time visibility of what is your tanks to prevent running out and emergency deliveries from being needed. It provides historical data to help you forecast your usage and detect theft and leakage.
SkyBitz Reviews and Ratings
There are a large number of reviews available for SkyBitz although most of them are predominantly on Featured Customers. Capterra has just one review and G2 has two reviews, all three of these reviews give 5 out of 5.
Featured Customers has the largest number of customer feedback with 1,574 user ratings comprised of 964 testimonials rating them as 4.7 and 610 case studies rating them as 4.8.
Positive comments include real-time information, compliant and reliable, solar power with battery backup, great coverage, and the dashboard offers meaningful metrics.
Negative comments included no local support.
Trustpilot – no reviews
Capterra – 5/5 (based on 1 review)
G2 – 5/5 (based on 2 reviews)
Featured Customers – 4.7/5 (based on 1,574 reviews)
Facebook – no reviews
Pros
They provide a range of GPS trackers that cater for a variety of trailers
Can assist you in managing your cargo and optimising your fleet capacity
Can help improve driver efficiency
Positively rated in customer reviews
Cons
They don't offer a complete fleet management solution as they don't offer scheduling and maintenance
They don't offer dash cams as part of their range
Website: https://www.skybitz.com/
Disclaimer: Fleetlogging.com is a general business information website only. The material and information on this website should not be relied upon for making any business or legal decisions. We cannot recommend any company and/or product, nor assess your suitability for any product and/or company listed here.