Keeping your fleet fueled and on the road is the key to your keeping your business running. Today, we're taking a closer look at the fuel and fleet card options available from Speedway.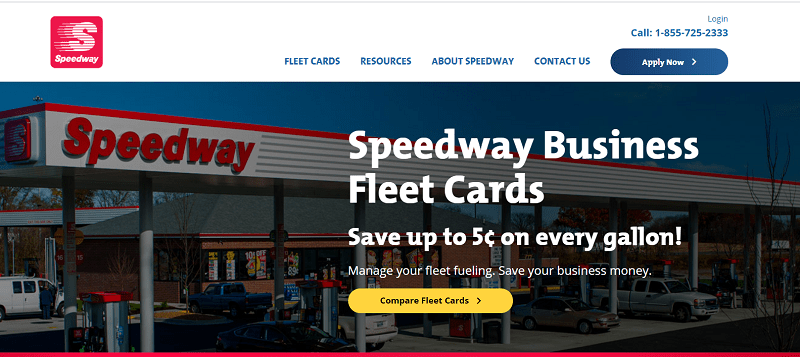 With detailed reports, easy customization, and a wide range of locations, Speedway seems like an enticing option. But is it the right choice for your fleet?
Our complete Speedway Fuel and Fleet Card review starts right now and includes everything you need to know:
What is the Speedway Fuel & Fleet Card?
Speedway fleet cards let you keep your vehicle fleet fueled up while still allowing you to monitor costs and control access down to each individual vehicle. They offer custom card controls, US-based customer support, and an opportunity to save even at non-Speedway stations. 
Their detailed tracking options help them stand out from the crowd. Custom reports detail purchase activity, tax exemption, site summaries, and more. If you're looking to streamline operations with a data-driven approach, Speedway fleet card membership provides that data in an accurate, easy-to-read format. (You can even check out a sample report.)
Speedway collects all types of data, including fuel receipts. You don't have to collect receipts from individual drivers, which frees your drivers up to focus on more important tasks, and also ends up with more accurate record keeping.
Who is the Speedway Fuel and Fleet Card for?
It's directed towards any business with a vehicle fleet that needs over 1,000 gallons per month. However, make sure your fleet travels near their pumps. With only 3,900 locations, Speedway doesn't have the availability of many popular gas cards, which can number 50,000 fueling stations or more.
If you're interested in mobile access, you'll like Speedway's app. It lets you access all control functions, so you can change both universal settings and individual privileges right from your phone. You can even pay through the app. It's an excellent, convenient feature if you're on the road often.  
Types of Speedway Cards
Speedway offers two types of cards:
The Speedway Business Fleet Card
The Speedway Business Universal Card
They're actually fairly different from one another, so let's run down the features of each:
Business Fleet Card
It's their more traditional fleet card option. You get the full range of security features, customization options, and access to reports. Plus, every use of every card builds rebates to help you save up to five cents a gallon.
You can easily customize each card, adjust controls on spending limits, item purchases, time of day restrictions, and more. Membership here also gives you access to Speedway's US-based support.
Business Universal Card
Their Business Universal Card offers a twist on the traditional fleet card. Your fleet now has access to far more options than the 3,900 Speedway locations. Instead, it's accepted at over 95% of US gas stations and 45,000 service stations.
The Universal option gives you the security and controls over spending, plus the ability to create detailed use reports, without tying you to a particular type of gas station.
What Speedway Customers Say
Don't just rely on our Speedway review. To make an informed decision, you'll want to consider the opinions of real users. What do actual Speedway customers like about these fleet cards, and what complaints do they have?
Unfortunately, finding positive reviews for Speedway's fleet card system is difficult. In fact, finding any reviews at all is practically impossible! Speedway is a non-existent presence on Trustpilot and Reviews.com, two major consumer review sites.
Additionally, their fleet cards aren't even found on Facebook in any significant way. The official page associated with their gas stations has over 1.3 million followers. However, the only Facebook page directly related to their Fleet cards hasn't been updated since 2019!
The Bottom Line
Are Speedway Fuel and Fleet Cards the solution for your business?
Right now, Speedway Fleet Cards do offer some definite positives. If you want custom reports to help you analyze your fleet's expenditures and routines, you'll find lots to like here. Additionally, permissions are flexible and easy to adjust.   
On the downside, the lack of any online reviews is concerning. Additionally, with only 3,900 locations, Speedway isn't the best option if your fleet travels nationwide because they're not well-represented in the South and Midwest especially.
However, it's unfair to rate Speedway's fleet card programs too harshly, or even too positively, because the company is currently undergoing a major change. Convenience store behemoth 7-Eleven recently purchased Speedway, acquiring all of their stores across 35 states. The available location options for Speedway fleet card members will likely increase substantially in early 2021.
Our advice? Speedway isn't necessarily the best option for larger national fleets right now, but the company is set to expand significantly in the first of the new year.