SureCam is an international company that provides dash cam solutions and they have offices in Reading UK, St Louis and Missouri in America, and a network of international resellers. They were founded in 2014 and were the first network-connected dash cameras in the UK. They now serve thousands of fleets around the globe to assist them in protecting employees, reducing claim costs, improving driver safety and enhancing driver coaching.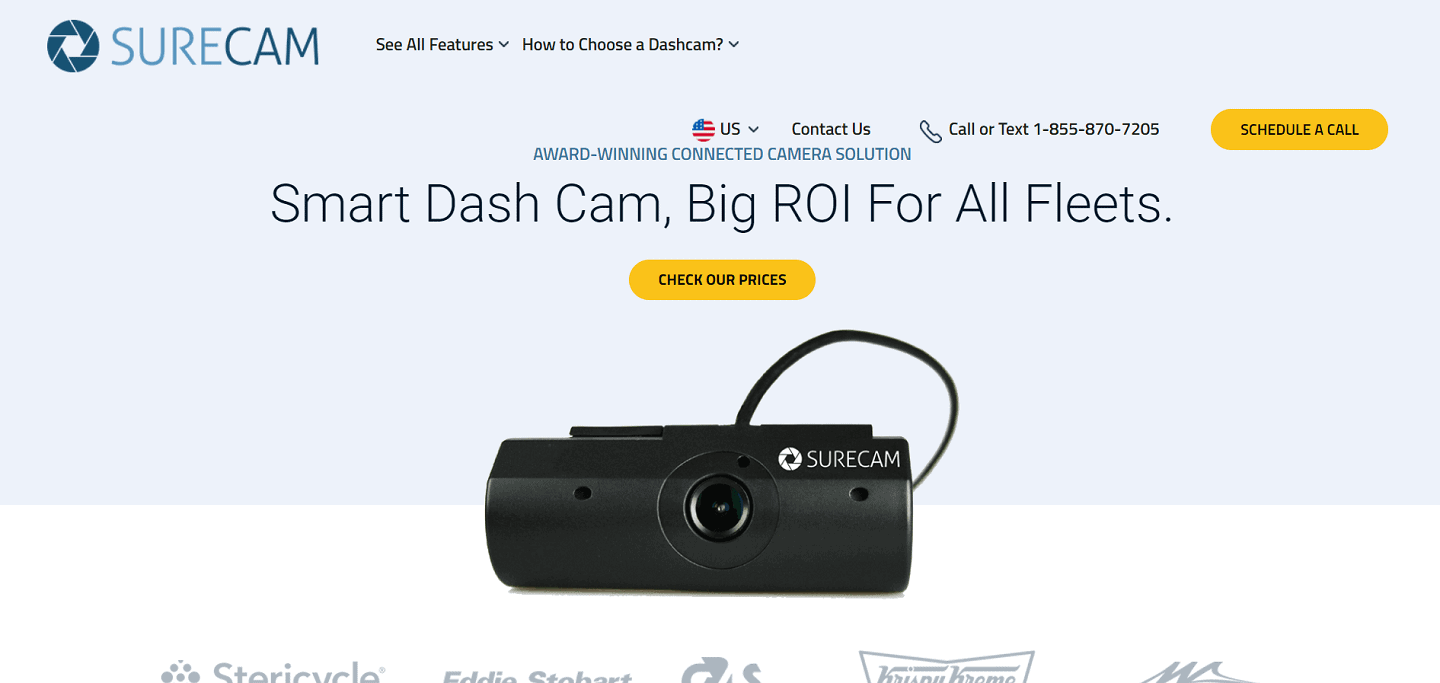 SureCam Features & Services
Dash Cams
SureCam offers a range of dash cams to help businesses improve the safety of their fleets, enhance driver coaching and protect drivers from claims. Their range of dash cams includes forward-facing dash cams, dual-facing dash cams and exterior side/rear dashcams.
Their dash cams can give you the full context behind any incident which can help provide indisputable proof of accident liability for your insurance provider and can keep your insurance costs down. The dash cams send video and data to their online platform where it is stored and can be accessed by computer or mobile device.
Their dash cams incorporate vehicle tracking so that you know where your vehicles are and their history which can help you to improve fleet efficiency. The dash cams can assist with tracking driver behaviour through evidencing driving that can be used to improve road safety by coaching them.
Telematics
SureCam's dash cams include fleet video monitoring technology which is combined with telematics to provide you with an enhanced fleet safety solution. The telematics provided with the dash cams can assist with making your fleets more efficient, safer and more compliant.
By combining telematics with the dash cams you can get the location data to support your video footage. They provide the functionality for fleet managers to produce automatic reports, driver scorecards and set custom events such as crash detection and event filtering. They also provide analytics and performance tools.
SureCam Reviews and Ratings
There are a small number of reviews available for SureCam on Trustpilot and Facebook. Trustpilot reviews are overall positive with an excellent score based on 22 reviews with 95% rating them as excellent and 5% as great. Facebook has two reviews but only one showing which doesn't recommend them and this review is a few years old.
Positive comments included great customer service, good support, easy to use and install, helped to reduce insurance premiums, flexible maintenance and fitting work, and good to highlight training needs.
Trustpilot – 4.6/5 (based on 22 reviews)
Capterra – no reviews
G2 – no reviews
Featured Customers – no reviews
Facebook – 3.0/5 (based on 2 reviews)
Pros
They provide a variety of dash cams which can give you full visibility around your vehicles
Their dash cams incorporate GPS telematics to provide enhanced information
Data can support driver behaviour improvements to increase safety
UK-based support
Positively rated in customer reviews
Cons
They don't offer a complete fleet management solution such as maintenance and scheduling tools
Website: https://surecam.com/
Disclaimer: Fleetlogging.com is a general business information website only. The material and information on this website should not be relied upon for making any business or legal decisions. We cannot recommend any company and/or product, nor assess your suitability for any product and/or company listed here.