Switchboard is a North American technology company aiming to streamline the logistics supply chain with a compact, easy-to-use ELD product. With offices in both the U.S.A and Canada, Switchboard is a relatively new brand that focuses on intelligent, intuitive design for fleet owners in particular.
But is its compact solution missing key features? Do Switchboard sacrifice product quality by offering such a reasonable price? And will its services keep your fleet compliant? Keep on reading to find out.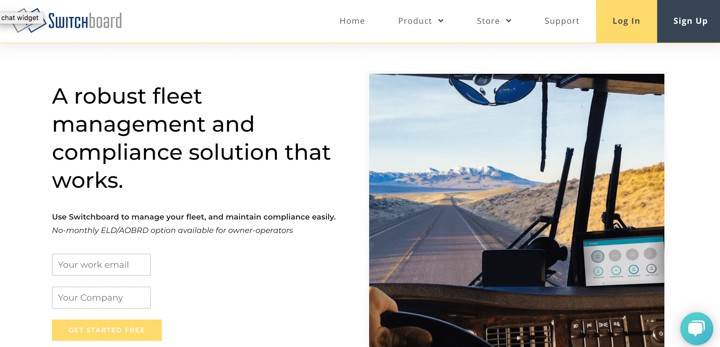 Switchboard Features & Services
Robust Reporting
ELD & HOS
Switchboard Web Portal
Geofencing
Dispatch Communication
Intelligent Alerts
Fleet Management
Switchboard focuses on fleet management in a modular style. Its robust fleet management solution goes hand-in-hand with the compliance technology on offer. Interestingly, Switchboard offers a no-monthly ELD/AOBRD option for owner-operators.
Switchboard's biggest selling points are its no-fuss technology (that can be fully installed in a matter of moments), and its reasonable pricing. If you're looking for simple FMCSA compliance combined with reliable fleet management solutions, then Switchboard 'has you covered.' Drivers can input all of the required data within the Switchboard app, whereas office teams will naturally use the Switchboard web portal for every aspect of fleet management.
The biggest advantage of modular fleet management is that your fleet need only pay for the features that will benefit your operations. You don't need to pay eye-watering fees for unnecessary features and services that provide little value to your team.
As standard, Switchboard's fleet management technology includes intelligent driver reports, GPS tracking (with geofencing included), IFTA fuel tax services, and of course, dispatch communication. Full compliance removes any legal headaches, and since it can be installed minutes, you can get your fleet covered fast.
Centurion Trucking Inc. praised Switchboard "because it is truly built to what my fleet, dispatch, and safety divisions need. It's simple to use, and also has all the features required for proper compliance and fleet management."
Finally, complete fleet activity analysis is also available. With the touch of a button, you can evaluate the performance of your fleet and keep track of driver performance in real-time.
ELD & HOS
Simple ELDs and seamless compliance are what Switchboard prioritize. The HOS Mandate stipulates that commercial vehicles must virtually record: hours of service; statuses; and exemption points. This makes for a clear presentation during inspections.
Switchboard's ELD has in-built features to cover all of that, promising to help your team avoid any fines once you commit to their ELD product. You can easily create hours of service (HOS) logs that can be viewed remotely and edited to suit. This input data allows both office teams and drivers to automatically keep track of driving time. Duty status is also automatically updated.
Switchboard offers 100% compliance with FMCSA DOT and NSC regulations for both AOBRDs and ELDs. You can choose to log hours on the Switchboard app on your personal device, or the dedicated Switchboard tablet.
Whichever option your team selects, drivers will quickly see the benefits of using the app. Paperwork is eliminated, the app workflow is super simple, and its intuitive design makes life easy for drivers. Managers can review every aspect of driver activity with the Switchboard web portal.
GPS Tracking
Switchboard's GPS Tracking feature means that you'll never lose track of where your drivers or assets are located. From the Switchboard web portal, you can locate any asset or vehicle that you need to. Observe driver movements with real-time tracking, and even receive instant alerts based on risky driver behavior.
By constantly tracking your drivers at work, you can review their activities and analyze performance. This makes it easy to manage a team of drivers. Detailed, insightful reports also provide additional information about employee habits and the risks they may be taking.
Geofencing parameters can be designed using GPS Tracking technology. If drivers exit any selected areas, you'll be notified immediately. More importantly, you can establish a geofence around a remote asset that you're tracking. This helps to increase security. And, with reliable asset tracking hardware that's guaranteed to last for 7 years, you'll always have one eye on remote assets.
Additional Features
In 2020, Switchboard expanded its product features to include a range of valuable fleet management services. Engine diagnostics, which had once been a bugbear of complaining customers, are now included. This helps teams to keep on top of vehicle health and act on any error codes immediately.
If you're managing large fleets, it's essential that you keep as many on the road as possible. Health and diagnostics help you to schedule and plan vehicle down-time.
On top of this, speeding alerts are now included and Switchboard has also overhauled its support team so that users can get queries resolved in minutes.
Switchboard Reviews and Ratings
There are reviews for Switchboard on impartial platforms such as Capterra and Facebook. The relatively low number of reviews ties in with Switchboard being a relatively new company.
There are no reviews on either TrustPilot or G2, and we look forward to assessing these reviews when they do eventually appear.
Out of 10 user reviews on Capterra, Switchboard score a favorable 4.5/5. Users praised the simple installation process, the attractive price, and the user-friendly navigation. Some users, however, pointed out a 'buggy' and slow software. There are also some mentions of poor customer service response.
Facebook reviews paint a similar picture, with an impressive score of 4.4/5. The majority of users are very happy with the Switchboard package. However, once again there are a few customer service complaints and comments regarding system glitches.
Capterra – 4.5/5 (based on 10 reviews)
Facebook – 4.4/5 (based on 17 reviews)
Overall, Switchboard provide complete and reliable compliance for fleets of all sizes. It's a value-for-money solution that both drivers and office teams will enjoy using from day one, especially with the simple installation.
Pros
A highly competitive price that leads the market;
A new range of valuable fleet management features that have been incorporated in 2020;
The ability to choose exactly which features you would like to use and pay for;
No-fuss technology that is easy to use and user-intuitive.
Cons
Inaccurate, unreliable mileage counts in certain locations;
Slow software – driver logs can be saturated and slow-moving;
Alerts and systems updates aren't customizable;
Long delays in customer service response.
Website: https://www.onswitchboard.com/
Disclaimer: Fleetlogging.com is a general business information website only. The material and information on this website should not be relied upon for making any business or legal decisions. We cannot recommend any company and/or product, nor assess your suitability for any product and/or company listed here.