Teletrac Navman, founded as International Teletrac Systems in 1988, is one of the very first and original fleet management service providers. It has earned huge respect in the industry for decades of committed and innovative Software as a Solution (Saas) research and has become one of the top providers of fleet services around the world.
The powerful fleet management suite covers just about every aspect of fleet management and every tool, service, and product is designed to streamline your company's efficiency while improving operations. But do the products work? Is the technology reliable? And does 500,000 tracked vehicles across 6 continents mean that you can trust Teletrac Navman? Today, we take a closer look at what the reviews say.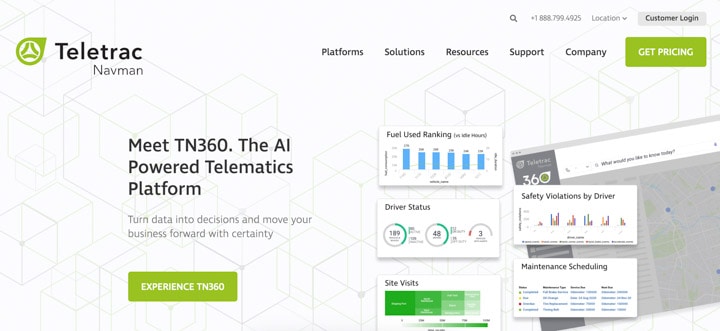 Teletrac Navman Features & Services
Real-Time Visibility & GPS Tracking;
AI-Powered Telematics (TN360);
Trailer Tracking;
Fleet Performance Reporting;
Fleet Maintenance;
Smart Dashcams;
Fleet Compliance & ELD.
Fleet Management Software & GPS Tracking
Teletrac Navman has developed a GPS truck tracking software backed by "years of experience and industry know-how." It provides fleet managers, drivers, and office teams with greater control over operations to create smooth, seamless fleet management on a daily basis. The systems that they provide can be configured to meet a range of business challenges, for fleets of any size.
The fleet manager software specifically designed for the trucking industry is Teletrac Navman's TN360 – the AI-powered telematics solution. The platform turns your data into decisions and moves your business forward. Each of Teletrac Navman's tools operates through the TN360 software, and it makes for a convenient location for all of your essential management products.
That begins with GPS tracking and real-time visibility. The technology allows you to see your fleet in near real-time and monitor each of your resources. Make sure they're safe, record operations, and ensure that your drivers are working effectively to achieve their daily goals. 'Drone view' location monitoring is a unique tool that allows you to follow a specified asset on live maps. And, when combined with intelligent geofencing alerts, you'll always know where your drivers are – and where they aren't.
GPS tracking, real-time visibility, smart dashcams, and cutting-edge telematics all help to improve productivity. But route optimization is another effective tool that can streamline your business operation and improve profitability. You'll be able to view previous trip history to select the most efficient driver routes, and smart dispatch and navigation will keep your overheads as low as possible. Regardless, you'll quickly be made aware of these insights in the valuable fleet performance reports.
And, on top of all that, you can still ensure that your drivers are safe on the road, with vehicles that are performing to the best of their abilities. With fewer unexpected maintenance procedures, your vehicles will cover more miles and your fleet will be fully efficient.
TN360 is the AI-powered telematics platform that delivers all of this from one supremely convenient location, making life easier for drivers, managers, and teams in the office.
Smart Dashcams
Users of Teletrac Navman's fleet management software see a 30% reduction in fuel consumption and, on average, 20% fewer accidents and violations. Smart dashcams are one of Teletrac Navman's products that help to keep incidents on the road few-and-far-between by keeping drivers coached and vehicles safe.
The dashcams mean that you can remove the guesswork from your fleet operations and review essential footage almost instantly. The 360° HD smart cams are equipped with an artificial intelligence processor and are therefore able to identify critical incidents and high-risk maneuvres on the road.
The cameras help to detect speeding, distracted drivers, drowsy drivers, red-light violations, tailgating, and more. And, crucially, the cameras will also reliable record footage that could exonerate your innocent driver in court. Your fleet will be protected from fraudulent insurance claims, all the while your drivers will become safer with at-fault detections and live alerts.
Fleet Performance Reporting
So as well as being able to see everything in real-time and record vital business data, business intelligence also goes a significant way to improving efficiency – and Teletrac Navman has the tools to make that happen for every fleet.
The business data that you record is 'brought to life' with powerful insights and analytics, all designed to help your team make better decisions. You can fully visualize and appreciate driver performance, vehicle performance, and even asset performance with new eye-opening information.
And, even better, you can choose how you want to access this data since it's fully customizable. Customizable dashboards? Reports? Real-time alerts? Track your company's most important KPIs in a single view, in the way that best suits you. You'll be able to evaluate fresh data and make better decisions while also reacting quickly to critical situations.
Fleet Compliance & ELD
But, when all is said and done, fleet compliance is still on every fleet manager's mind. Teletrac Navman has a suite of products and tools that help to keep your fleet compliant and help you sleep at night – no matter how frequently the local regulations are updated.
First of all, you'll enjoy the digital automation procedures. Paperwork is eliminated, essential information is stored electronically, and accurate compliance information (such as DVIRs, HOS, and logbooks) is always ready to view digitally. The data is simply synced, logged, and stored securely in the cloud.
That way, you'll always be able to meet ELD, IFTA, and DVIR requirements without having to amend false logs or combat human error.
Teletrac Navman Reviews and Ratings
It seems that Teletrac Navman pushes the majority of their reviews through the ever-dependable TrustPilot, as there is no evidence of independent, unbiased, or impartial reviewing on any of the usual Capterra, or G2 platforms. There aren't even any reviews on its Facebook, although there is a positive score of 4.7/5 on Featured Customers.
That being said, the TrustPilot reviews are extremely impressive, leaving Teletrac Navman with one of the best user reviews we've ever seen. From just under an astonishing 2,000 reviews, the California-based SaaS provider scores an average of 4.6/5, with just 8% of the total reviews falling under a 3/5 rating.
Users praise how easy the system is to use, and appreciate how closely it resembles paper logs. They also take time to praise a highly-effective ELD system, dependable dashcam technology, and a smooth transaction to a fully automated, electronic fleet management service. But even Teletrac Navman isn't without complaints, and there are a couple of reviews that point out poor customer support and billing errors.
Rob Watts of PCMag gives Teletrac Navman a high 4/5 review which is full of praise for the software provider, if a little critical of the high subscription rates:
"Teletrac Navman Director is a powerful fleet management system that offers a full view of your fleet's operations. However, all of its extra features come at a cost."
Jitendra Soni, writing for Tech Radar, gave Teletrac Navman a surprisingly low score of 3/5. We feel that this low score comes from some admittedly poor feedback on the Better Business Bureau platform:
"A veteran telematics company that offers a wide range of fleet tracking services and is suitable for all fleet sizes, but customer feedback is a concern."
Teletrac Navman is one of the oldest fleet management software providers in the industry, and it has developed a stellar reputation during that time. Its solutions are convenient, developed with the user in mind, and designed to improve every aspect of fleet operations and management. For the companies that can afford an admittedly-high subscription cost, they are unlikely to be disappointed by the technology on offer.
TrustPilot – 4.6/5 (based on 1,944 reviews)
Featured Customers – 4.7/5 (based on 50 reviews)
Pros
Tools and services from some of the most experienced fleet management developers in the industry;
A powerful worldwide brand that has international offices;
Reliable GPS tracking, intelligent reporting, and easy-to-use ELDs;
Top-of-the-range AI-powered telematics in the compact TN360 solution.
Cons
Not the cheapest, with a high subscription cost;
Some complaints of poor customer service and inaccurate contracts that are difficult to exit.
Website: https://www.teletracnavman.com/
Disclaimer: Fleetlogging.com is a general business information website only. The material and information on this website should not be relied upon for making any business or legal decisions. We cannot recommend any company and/or product, nor assess your suitability for any product and/or company listed here.