Titan GPS claims to be a leader in GPS telematics, fleet tracking and management, connected transportation and industrial IoT. They are a Canadian business with offices in America. They offer cloud-based software that supports products including GPS telematics, ELDs, smart cameras, workflow optimisation applications and OEM telematics connectivity. Their products have been designed to help optimise fleets, increase efficiency and compliance in a wide range of industries.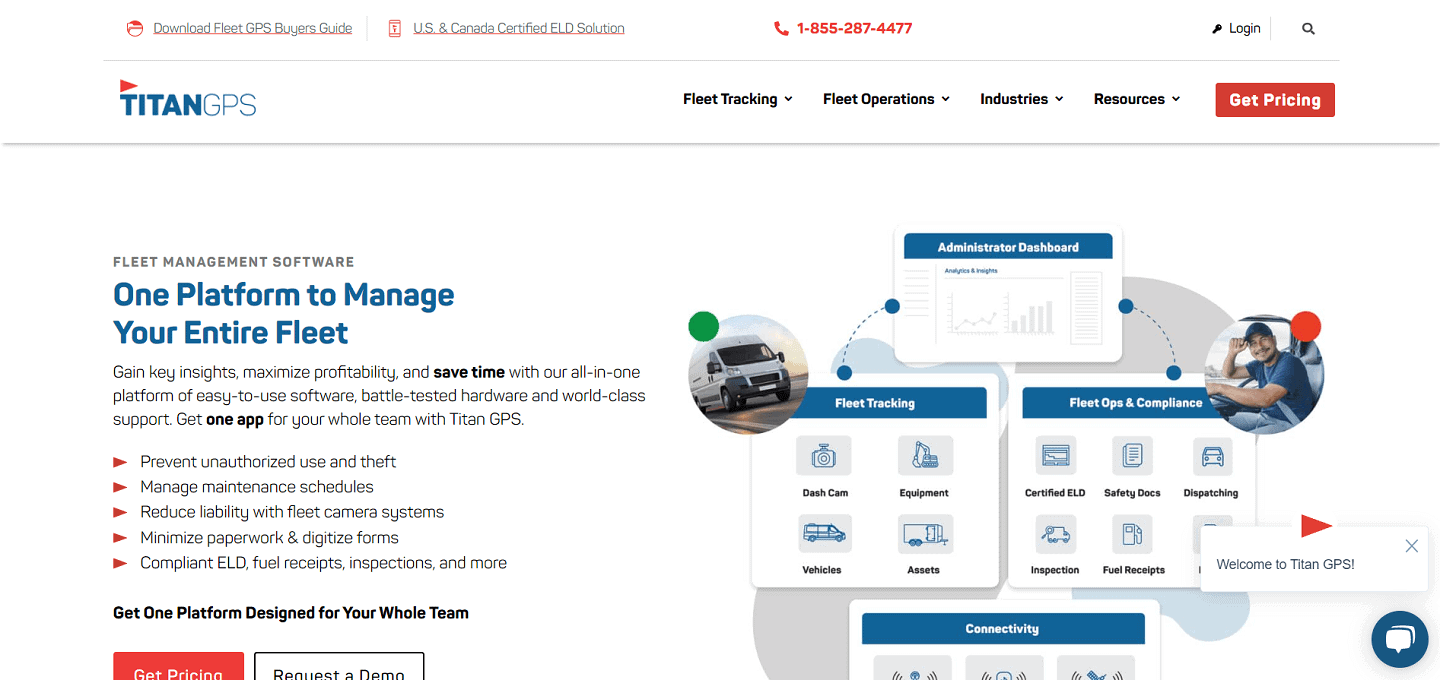 Titan GPS Features & Services
GPS asset tracking
Equipment tracking
Heavy equipment tracking
Trailer tracking
Fleet dash cam system
Field service mobile app
ELD HOS compliance
Digital pre and post-trip inspections
GPS hardware
Fleet Management
Titan GPS offers an easy-to-use fleet management software that is designed to help prevent unauthorised use and theft, manage maintenance schedules, reduce liability through the use of camera systems, minimise paperwork and digitise forms, and increase compliance.
Their software allows you to automate your workflows and integrates with your fleet to create operational efficiency. It allows you to gain insights into your fleet through GPS tracking with more accurate ETAs and eliminate poor driver habits such as excessive idling and aggressive driving that can waste fuel.
It enables you to set up customisable alerts that can monitor after-hours use, vehicle tampering and vehicle diagnostics to assist with fleet maintenance. Combining it with dash cams can also improve driver safety and assist with training with in-cab driver coaching.
Vehicle Tracking
Titan GPS offers vehicle tracking solutions that can provide you with a wealth of data including real-time GPS tracking, fleet diagnostics, driving behaviour and geofences. The integration of onboard vehicle diagnostics can help with vehicle maintenance and gain insight into driver habits that can increase fuel consumption such as speeding and excessive idling.
The software can help with managing and maintaining fleets through notifications and alerts to keep your fleet up to date. The software also allows you to stay compliant with electronic logging devices, Hours of Service functionality and digital driver vehicle inspection reports (DVIR).
They offer a choice of GPS tracking options that are suitable for a range of vehicles including pickups, heavy-duty vehicles, vans and semi-trucks. The software allows you to track vehicles on software on your computer, tablet or mobile which can help you to improve fuel efficiency and customer service through greater visibility.
Titan GPS also provides tracking solutions suitable for assets, equipment, heavy equipment and trailers.
Dash Cams
Titan GPS offers a Fleet Dash Cam System that can capture multi-angle footage forward and driver facing to enhance your fleet tracking. Having a dash cam can protect your vehicle and drivers when an incident occurs as there is video evidence to support your claims. The footage captured by the dash cam can be uploaded to the cloud and stored securely and can be accessed at any point, as well as stored on the SD card.
The dash cams can also assist with monitoring and coaching drivers on their behaviour. This includes in-cab alerts and notifications for fleet managers when a driving event occurs. Events can include speeding, harsh acceleration, harsh braking, rolling stops, following too close to other vehicles and hard turning. This can help improve driver behaviour and implement coaching.
Driver-facing cameras can also capture driver fatigue, seat belt wearing, use of cell phones, distracted driving, smoking and lane departure. You can also have driver-side, passenger-side and rear-view cameras.
ELD and HOS Compliance
Titan GPS offers an electronic logging device that ensures that you are compliant with hours of service rules. Their software solution integrates with GPS tracking to provide the telematics information needed for logs and improve efficiency by removing the need for paper logs.
The logs are designed to be compliant and error-free as they automate records and reduce administration. They can also integrate driver vehicle inspection reports (DVIR) which include adhoc, pre-trip and post-trip inspections electronically to increase the speed of inspections. The software can also produce reports to support compliance and reporting requirements.
Titan GPS Reviews and Ratings
There are only customer reviews for Titan GPS available on Featured Customers where there are 1,254 customer ratings with 758 testimonials and 496 case studies, both have a rating of 4.8 out of 5.
Comments included in the testimonials were it helped recover a stolen vehicle, assists with allocating resources efficiently and monitors vehicles in real-time.
Trustpilot – no reviews
Capterra – no reviews
G2 – no reviews
Featured Customers – 4.8/5 (based on 1,254 reviews)
Facebook – no reviews
Pros
Offers a broad range of fleet management products
Provides electronic systems that aid compliance including ELD, HoS and DVIR
Solutions include dash cams that can aid driver behaviour and safety
Positively rated in customer testimonials
Cons
Only has offices in Canada and America so no local support is available
Some products are geared toward American and Canadian legislation
Website: https://titangps.com/
Disclaimer: Fleetlogging.com is a general business information website only. The material and information on this website should not be relied upon for making any business or legal decisions. We cannot recommend any company and/or product, nor assess your suitability for any product and/or company listed here.