Track Your Truck was founded in 1998 in Virginia, America and they provide quality tracking systems at competitive prices. They provide US-based support for their products to a wide variety of industries. They provide some hardware free and offer a 30-day money-back guarantee. Their software is available on Android and Apple mobile apps to allow you to track your vehicles from anywhere.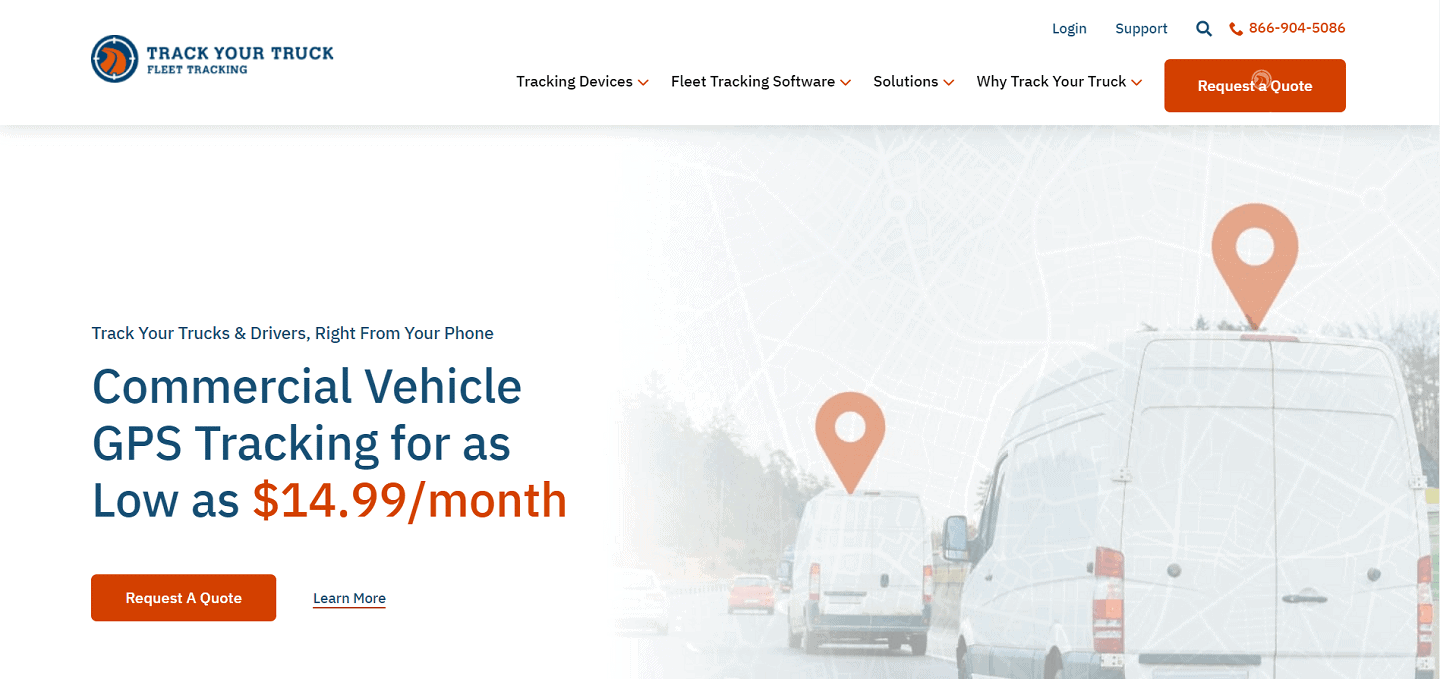 Track Your Truck Features & Services
Truck GPS Trackers
Track Your Truck offers a range of GPS tracking devices for trucks that allow you to utilise only the features you need and pay just for those. They offer a variety of devices suitable for a wide range of vehicle types. They offer premier devices that are easy to install that are plug and play technology. The units have internal antennas and a battery backup in case of driver tampering or theft.
They also offer hardwired GPS trackers which offer additional capabilities including a PTO sensor, starter disablement, driver ID and temperature sensor. These devices need to be installed by a mechanic as they require a simple 3-wire installation.
Trailer trackers are also available which provide untethered, passive tracking with an internal rechargeable battery that can last 6 months. These devices can send up to 6 updates per day. They have an internal antenna for concealed installation, are suitable for outdoor use and have a 2-wire installation and can be connected to trailer lights to charge the battery.
You can track your vehicles from anywhere using their mobile app which is available on Android and Apple so you can monitor your trucks at all times. The devices allow you to track your vehicles in real-time and check their speed.
Their truck tracking devices come with a full warranty and 30-day money-back guarantee. The devices can help reduce fuel costs and enhance safety through greater insight and being able to make improvements as well as increase productivity. They can also help in recovering assets if they are stolen.
Fleet Tracking Software
Track Your Truck offers fleet tracking software that allows you to track your vehicles as well as gain insight into how your fleet is performing and how cost improvements can be made. You can also assess driver efficiency and safety to protect your drivers and your business reputation.
Through their fleet tracking software, you can prevent fuel wastage, stop speeding and reduce bad driving. It can assist you with routing your vehicles through efficient dispatching using Google Directions and Routing Tools which can help control fuel costs and travel times.
The fleet tracking software is available on mobile apps so that you can access your fleet information wherever and whenever you need it. You can also set up real-time alerts to receive notifications of when vehicles arrive at locations or alerts you of exceptions in real-time. Other features include driver ID, map replay and activity reporting to allow you to analyse what is happening in your fleet and make improvements.
Vehicle Tracking Systems
Track Your Truck offers vehicle tracking systems that allow you to monitor your operations, resources and inventory with customisable solutions. They cater for a variety of industries and professions of varying sizes from small to mid-sized businesses. They provide personalised solutions to meet your operational requirements and budget.
The vehicle tracking systems allow you to track a range of assets whether they are moveable or fixed assets. You can monitor your assets from anywhere on any device with an internet connection including mobile devices.
You can track vehicles including cars, buses, boats, heavy equipment, trailers, trucks and vans. They offer covert GPS tracking which are more discrete trackers so your employees do not know that they are installed such as a hardwired tracker that fits behind the dashboard.
Track Your Truck Reviews and Ratings
There are no reviews for Track Your Truck on the leading customer review sites for fleet management.
Trustpilot – no reviews
Capterra – no reviews
G2 – no reviews
Featured Customers – no reviews
Facebook – no reviews
Pros
Offers tracking solutions that are suitable for a variety of industries and a wide range of vehicles and assets
Their software is available on any device with an internet connection
They offer a variety of hardware solutions including self-installation, hardwired options and covert units
Cons
They do not offer dash cam options at present
There are no customer reviews for them so there is no independent information about their services and products
American based support
Website: https://www.trackyourtruck.com/
Disclaimer: Fleetlogging.com is a general business information website only. The material and information on this website should not be relied upon for making any business or legal decisions. We cannot recommend any company and/or product, nor assess your suitability for any product and/or company listed here.