Transflo (by Pegasus TransTech) is a "leading portfolio of software and business process automation for the transportation industry." And, although this doesn't cover every aspect of fleet management, Transflo has paired up with some of the biggest names in the industry to offer a complete fleet management solution to its customers.
Transflo's mobile and cloud-based technologies now digitize "over 400 million documents annually." But do Transflo's mobile products make the grade? What do its digital automation products offer that other softwares don't? Is it suitable for managing documents, data, and drivers for large-size fleets? Keep on reading to find out what we make of Transflo's solutions.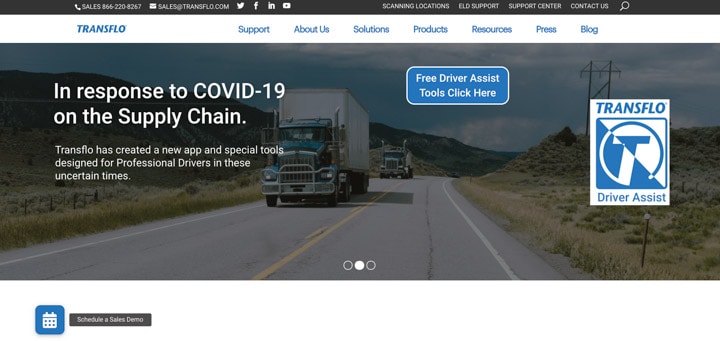 Transflo Features & Services
Transflo Mobile;
Fleet Telematics & GPS Fleet Tracking;
Docutype;
Fleet Navigation with Live Traffic;
myPilot;
Drivewyze (Weight Station Bypass);
Dashcams (by SurfSight);
Transflo Trailer Trackers;
Transflo ELD Bundles (by GeoTab).
Transflo Mobile
Transflo has a solution that allows your team to manage data, documents, and drivers from one platform – no matter the size of your fleet. Instant communication, paperwork digitization, and many other daily tasks are fully automated on a mobile-friendly solution to make everybody's life easier.
And that begins with Transflo Mobile – Transflo's primary fleet management software solution. It allows commercial drivers to manage all of their work from one convenient tool, with a significant number of benefits for the fleet operators as well. It's a fully configurable solution for your whole fleet, and it's the professional's document management tool.
Transflo Mobile offers a simple, user-friendly way to increase productivity and improve fleet workflow. In fact, almost every fleet management tool and technology operate through Transflo Mobile. From "load to last mile", the app improves fleet visibility, helps your drivers spend more time on the road, integrates fleet telematics, provides accurate route mapping, and even includes fleet navigation with live traffic (powered by CoPilot).
Importantly, it makes every aspect of documentation easy for drivers. One of the key platform extensions is mobile document scanning, meaning that drivers can send their paperwork from anywhere, and in a matter of seconds. Industry-leading document compression protocols transmit the highest quality documents with the lowest amount of data possible.
Communication and reporting are super-convenient as well. Office teams can instantly communicate with drivers in the field, and notifications ensure that important transmissions are never missed. Driver scorecards, accident reporting, payroll, and personalized task lists are all available with the touch of a few buttons on the driver's screen.
Everything that involves managing an efficient fleet begins with Transflo Mobile – that's why it has had more than 1 million downloads already.
Fleet Telematics & GPS Fleet Tracking
Few fleet management technologies are more important than telematics, and although Transflo focuses on digital processes and automation, there's still room for telematics technology in their suite of products.
Transflo markets its ELD "T-Series", its FMCSA-certified telematics device. This solution is fully compatible with all heavy-duty trucks and is easy to install. Highly accurate GPS fleet software automatically transmits data using a cellular location, and so long as your device has a signal, your office team will be able to use the Transflo Telematics Portal to see exactly where each vehicle is and which task its busy with.
As well as providing a bird's eye view of your entire fleet, that same portal shows daily insights and crucial fleet analytics that help you streamline your operations. Fuel usage, route efficiency, idle time, and even dangerous driver behavior are all tracked and displayed in a way that makes it easy for managers to make a difference with the data.
Transflo ELD Bundles
Importantly, the GPS fleet tracking and fleet telematics incorporate Transflo's ELD bundles. By partnering with GeoTab, Transflo includes a powerful ELD device that collects data for each vehicle, driver, and journey, tracking everything from engine health to truck location and everything in-between. Vehicle diagnostics, driver behavior, mileage data, and HOS are all automatically captured and can be used to collate valuable insight reports.
Transflo's ELD bundle comes with no upfront hardware costs and a lifetime guarantee on ELD equipment. This is particularly beneficial when considering the rigorous wear-and-tear of the industry.
Once all of the critical driver data has been captured, drivers and office teams alike can then log into the Mobile platform to view driver logs, access DVIRs, and pull together commodity lists. Your team will always be certified, regulated, and accountable with Transflo's ELD solution, no matter where they are.
Dashcams (by SurfSight)
Finally, the same telematics technology can be used to incorporate Transflo's dual-facing dashcam solution. These high-quality 1080P HD cameras are fully adjustable and front-facing. The driver-facing cameras are slightly lower in quality at 720P, but can still be used to capture dangerous driver habits and send distracted driver notifications.
When fitted with safety sensors, there are few incidents and distractions that you won't be able to capture – both on the road and in the cabin. Distracted driver, harsh braking, speeding, unnecessary acceleration, sharp turns, and even geofencing alerts can all be quickly identified and notifications and alarms will be spent to the office team.
As well as being a convenient solution for drivers, all of these technologies make life on the road – and in the office – a productive, efficient operation.
Transflo Reviews and Ratings
Now that we've got into detail about the services offered by Transflo, let's take a closer look at the user experience – are the solutions as useful as they sound? They certainly seem to be based on TrustPilot reviews, where Transflo scores an impressive 4.2/5 from more than 600 independent reviews. While the majority of users praise the user-friendly interface, tools that make daily tasks simpler, and time-saving documentation scanning, there are still a few unsavory reviews lamenting frozen software and poor cellular connections.
Surprisingly, there are no reviews to be found on impartial websites G2 and Capterra. We look forward to Transflo committing to unbiased reviews on these powerful platforms.
Featured Customers has more than 750 reviews and case studies resulting in a highly-impressive average score of 4.7, but the reviews take a slight dip with Facebook reviews. With a surprisingly low score of 1.6/5, the majority of the Facebook reviews are filled with complaints. However, with only 7 reviews in total, the average score would probably benefit from a larger sample size. Nonetheless, Transflo will look to address supposed glitchy software, faulty ELDs, and a 'slow app' that is 'prone to crashing.'
In summary, Transflo offers a range of software and solutions that make every fleet's life easier. Despite putting a firm focus on digital process automation, there are still plenty of integrations with third-party solutions (including GPS tracking and ELD technology) to offer fleet managers everything they need.
TrustPilot – 4.2/5 (based on 614 reviews)
Featured Customers – 4.7/5 (based on 754 reviews)
Facebook – 1.6/5 (based on 7 reviews)
Pros
Super-convenient tools and solutions for drivers;
Time-saving technology and reliable data transmission;
Full capability for third-party technologies to be incorporated, including Dashcams and ELD solutions;
Bundle offers that are beneficial to the driver and budget-friendly.
Cons
Some complaints of glitchy software that can freeze;
Limited in-house applications – many essential technologies depend on other companies;
No trademarked ELD solution, instead relying on GeoTab;
Expertise in process automation where some fleets may prefer expertise and experience across the board.
Website: https://transflo.com/
Disclaimer: Fleetlogging.com is a general business information website only. The material and information on this website should not be relied upon for making any business or legal decisions. We cannot recommend any company and/or product, nor assess your suitability for any product and/or company listed here.