US Fleet Tracking is one of North America's oldest names in the world of fleet telematics and GPS Tracking. Although it isn't officially a fleet management provider, its GPS technology still offers many products, tools, and services that you would expect to find with a fully-fledged fleet management provider, making it an attractive, no-frills option for many fleets.
Its GPS solutions are used by fleets in more than 150 countries around the world, and US Fleet Tracking has a solid reputation. Is it justified? Do its GPS solutions fill in all of the gaps? Would you be better partnering with a fleet management provider? And what's the difference? Let's take a closer look and analyze what the user reviews say as well.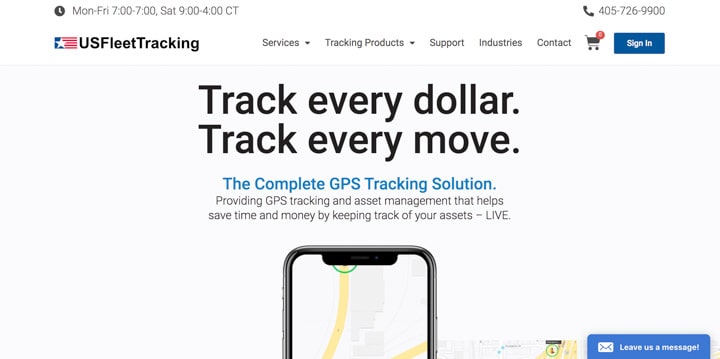 US Fleet Tracking Features & Services
GPS Fleet Tracking;
Alerts;
Reports;
Dispatch and Communication;
Fleet Tracking Fuel Card;
US Fleet Tracking App;
GPS Trackers.
GPS Fleet Tracking
If you weren't already aware, US Fleet Tracking specializes in GPS tracking for fleets of all sizes. As we've discussed in many other fleet management provider reviews, many of the most important fleet management solutions are powered by GPS tracking. US Fleet Tracking has decided to focus its capabilities on mastering this technology without expanding into other fleet solutions.
And it has done so with good reason. Using GPS Tracking alone, US Fleet Tracking offers "the most powerful tools for managing your vehicles, trailers, or whatever your assets might be." These solutions are designed to boost productivity and increase efficiency with easy-to-use, intuitive tools.
Dispatch is one of the most important fleet services. US Fleet Tracking has incorporated scheduling and dispatch technology, which assigns jobs to drivers based on their location, status, and suitability for the job. With 5-second (or 10-second) real-time updates, office teams will always be able to see where a driver is and update the progress of the task at hand.
Although office teams are able to send one-way messages, drivers are unable to communicate back to the office through the software. This lack of two-way communication may not suit every fleet.
Office teams get a map-powered display of every asset and driver they're tracking on powerful GPS tracking software. However, the same technology is also available in a mobile app. This means that fleet managers can track and manage their assets on the go, withdrawing accurate job information, and even checking in on live traffic when they're out-of-office.
Everything that happens on the road is captured and displayed for your office team to use. But it's recorded as well. This means that huge quantities of fleet data can be recorded, analyzed, and displayed in user reports that are easy to understand and work with. The reports provide you with every fleet tracking detail you need to save time and money.
You can quickly check which drivers are driving aggressively, how often your vehicles are idling, and whether or not they're regularly speeding. Mileage can be broken down into specific regions, and even start-stop is recorded. This data can be used to spot opportunities, coach better drivers, and improve fleet operations across the board.
Alerts
Live alerts are another important fleet tracking feature that will keep your fleet safe and your office team up-to-date. Act on concerning alerts immediately and communicate with any drivers before things get worse.
Risky driver behavior is tracked and if any driver is speeding, idling, or cornering, you'll be able to send out a warning and ask them to slow down. But you'll also receive maintenance alerts based on miles covered or hours spent driving. Never miss a maintenance reminder, and keep your vehicles on the road for longer. Unlike many fleet management providers, US Fleet Tracking doesn't log maintenance schedules within the software.
Geofence locations can also be assigned, and you'll receive an alert whenever the boundary is interrupted. Whether this is to protect a remote asset or prevent a driver from entering a restricted zone, you'll be informed almost immediately.
GPS Trackers
US Fleet Tracking is known for its quality, and it has developed and patented 9 different GPS trackers for every application imaginable. These range from $99 to $299. Since this isn't included in the software subscription, this could make US Fleet Tracking an expensive service for fleets that are new to the business, but the quality of tracker is likely to make it a value-for-money purchase.
The QT-V4 Live Tracker is the cheapest tracker on offer at $99. It tracks with Google Maps in real-time, is water-resistant, and has long battery life. The V4 Pro Live has geofence incorporated, and also comes with full power management.
Things get more serious with the AT-V3 and V4, both of which have 3-wire installation and tamper-resistant technology. They have rugged, waterproof housing, and a built-in backup battery as well. Other trackers like the PT-V4 are smaller, more reliable, and wireless. Whatever the tracking requirement, there's a US Fleet Tracking tracker that will suit the application and provide accurate and reliable location updates.
There are free demos available for every tracker and, since they're charged on a monthly basis, it's easy to change tracker or leave the contract completely.
ELD Mandate
One of the biggest gaps in US Fleet Tracking's portfolio is the lack of an ELD solution. Not all of the GPS trackers are compliant with the FMCSA mandate, and shouldn't be used as an ELD solution. These trackers are better suited to fleets that already have an ELD solution in place through a third party.
That being said, the add-on ELD Device (ECM-Link ELD Device) can be used for fleets that already have a GPS tracking provider. It isn't a standalone ELD solution, but it is attached to the vehicle's engine and will add ELD compliance.
US Fleet Tracking Reviews and Ratings
Surprisingly, there are few US Fleet Tracking user experiences to reviews. TrustPilot – normally full of honest and impartial user reviews – hasn't registered a single review. The same goes for Capterra.
And, incredibly, there's only a single review on reviewal platform G2. Here, the user leaves US Fleet Tracking with a 4* review, recommending the product for its ease of use and simple dashboard platform.
There are, however, 11 user reviews on Facebook. These reviews leave US Fleet Tracking with an average score of 4.4/5. There, users are pleased with high-quality customer service, reliable technology, and accurate GPS tracking.
Jitendra Soni, of Tech Radar, said this of US Fleet Tracking:
"US Fleet Tracking company is a trusted GPS provider and works best for businesses that do not need advanced analytics and the features that a fleet management solution provides. It is decently priced and offers an option to customize the package based on your requirements."
US Fleet Tracking is an ideal solution for fleets that need simple, easy-to-use, and dependable GPS fleet tracking. For more complex fleet management services such as full ELD compliance, two-way messaging, and video telematics, fleets should probably consider an alternative fleet management provider. We look forward to revisiting this review when there are more user experiences online.
G2 – 4/5 (based on 1 review)
Facebook – 4.4/5 (based on 11 reviews)
Pros
Lots of experience in GPS tracking from one of the original GPS tracking companies;
Presence in more than 150 countries all over the world;
A range of different trackers to suit every application and need;
Packages that include essential GPS tracking features such as alerts, dispatch, and reports.
Cons
No ELD solution;
Few driver coaching and driver safety tools;
GPS trackers aren't included in the monthly subscription.
Website: https://www.usfleettracking.com/
Disclaimer: Fleetlogging.com is a general business information website only. The material and information on this website should not be relied upon for making any business or legal decisions. We cannot recommend any company and/or product, nor assess your suitability for any product and/or company listed here.