Wireless Links is a fleet management and asset tracking company providing hardware and software solutions. They were founded in 2000 and have its headquarters in the USA. They cater for small to large businesses across 25 countries and cater for fleets of five to thousands including trucks, couriers, ambulances, towing vehicles, limos and public safety vehicles. They have over 150 integrators across Europe, North America, Asia and South America.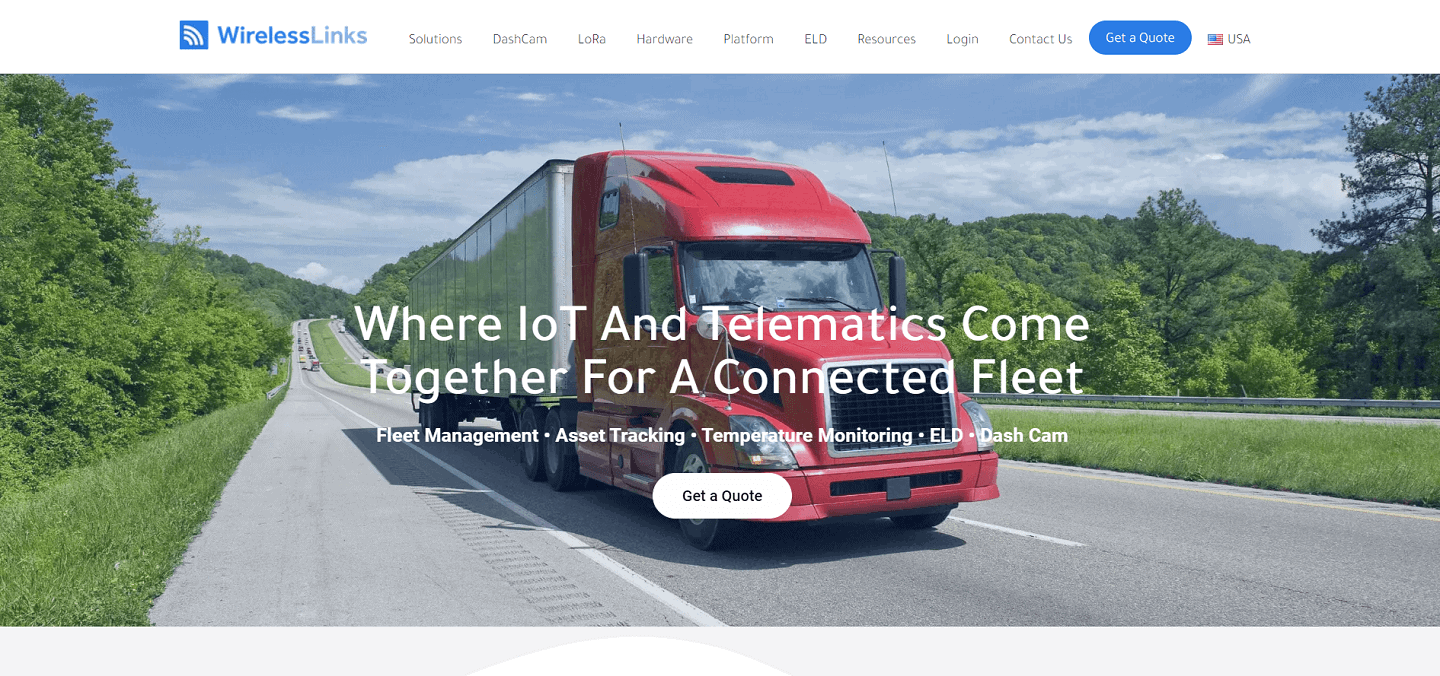 Wireless Links Features & Services
Fleet vehicle tracking
Trailer tracking
Asset tracking
Container tracking
Heavy equipment tracking
Refrigerated container tracking
School bus and student tracking
Fleet dash cams
Fleet Vehicle Tracking
Wireless Links fleet vehicle tracking uses Piccolo vehicle tracking devices backed by the Fleet.Net fleet tracking platform. Their fleet tracking solution provides real-time monitoring from easy-to-install plug-and-play trackers suitable for vehicles, trucks, trailers and equipment.
Their trackers can assist in increasing workflow productivity, streamlining fleet maintenance, reducing fuel costs, improving driver and fleet safety, and increasing customer satisfaction. The Fleet.Net platform is easy to use and allows you to monitor your fleet through your computer or smartphone.
You can access a variety of data on your fleet including location, temperature, stopping, and route history. You can set up boundaries with real-time alerts when vehicles enter or exit the geofence boundaries. It also provides a comprehensive range of reports such as route reports, driver logs, speed reports, idle time, fuel reports and more.
Trailer Tracking
Wireless Links provides trailer tracking solutions that allow you to protect your trailers and their contents. They use wired or battery-powered GPS tracking devices that can provide real-time visibility, give oversight of inventory and control of it, set up geofence alerts and access historical locations.
Their range of trailer trackers are suitable for flatbeds, dry van trailers, chassis, specialty trailers, refrigerated trailers or any powered assets. Their trailer trackers allow you to quickly identify what and where your inventory is as well as identify under-utilised trailers. The trackers enable you to prevent theft and track their location in the event of them being stolen.
The trackers can send real-time alerts to flag up unauthorised use, under-utilised assets, doors being open and tag high-value goods using Mini IoT Tags. They provide users with access to monitor their trailers through the mobile app at all times.
Asset Tracking
Wireless Links also provide tracking solutions designed to monitor assets using Piccolo trackers and the Fleet.Net cloud platform. Their trackers include battery-powered GPS asset trackers and solar-powered GPS asset trackers.
The asset trackers provide real-time monitoring of your assets, can assist with inventory control, can alert you to unauthorised movement and produce comprehensive reports. You can set up geofences with boundaries with alerts on entry and exit.
They also offer optional sensors including temperature sensors to assist with monitoring environments. The asset trackers can assist you in maximising the utilisation of your assets through increased visibility and reduced operational costs.
Fleet Dash Cams
Wireless Links offers a dash cam solution that can provide dual-facing cameras and can give 360-degree visibility through the optional expansions to include side and rear-facing cameras. The cameras come with integrated telematics.
The dash cams are easy to install with no hardwiring. They provide on-demand live view videos and you can view historical videos on demand. The cameras come with up to 128GB of built-in SD storage which can store up to one week of recordings. Footage can be easily exported so it can be kept for longer.
Fleet dash cams can help businesses by providing proof to resolve disputes, and improve the safety of your fleet by allowing you to check that drivers are following road safety standards.
Wireless Links Reviews and Ratings
There are no customer reviews for Wireless Links on the leading review sites suitable for fleet management solutions.
Trustpilot – no reviews
Capterra – no reviews
G2 – no reviews
Featured Customers – no reviews
Facebook – no reviews
Pros
They provide a complete fleet management solution for businesses
They offer a wide range of tracking and monitoring devices that work together on their Fleet.Net platform
They offer dash cams that integrate to provide a 360-degree view
Cons
Their dash cams don't automatically back up to the cloud and give you access to video instantly
The trackers and dash cams don't allow you to communicate with drivers or allow drivers to send data/documents
US-based support
No independent customer reviews to gauge opinions on products or service
Website: https://wlius.com/uk/
Disclaimer: Fleetlogging.com is a general business information website only. The material and information on this website should not be relied upon for making any business or legal decisions. We cannot recommend any company and/or product, nor assess your suitability for any product and/or company listed here.