Zonar is a fleet management software provider that specialises in offering solutions that promote safe driving. They were founded in 2001 to revolutionise pre and post-trip inspection by making electronically verified inspections to increase safety and reduce breakdowns.
Zonar claims to be one of the leading providers of complete technology solutions for smart fleet management. They provide innovative products that are designed to help customers operate more efficiently. They provide telematics solutions stacks that allow you to select the components that you want for your fleet management platform.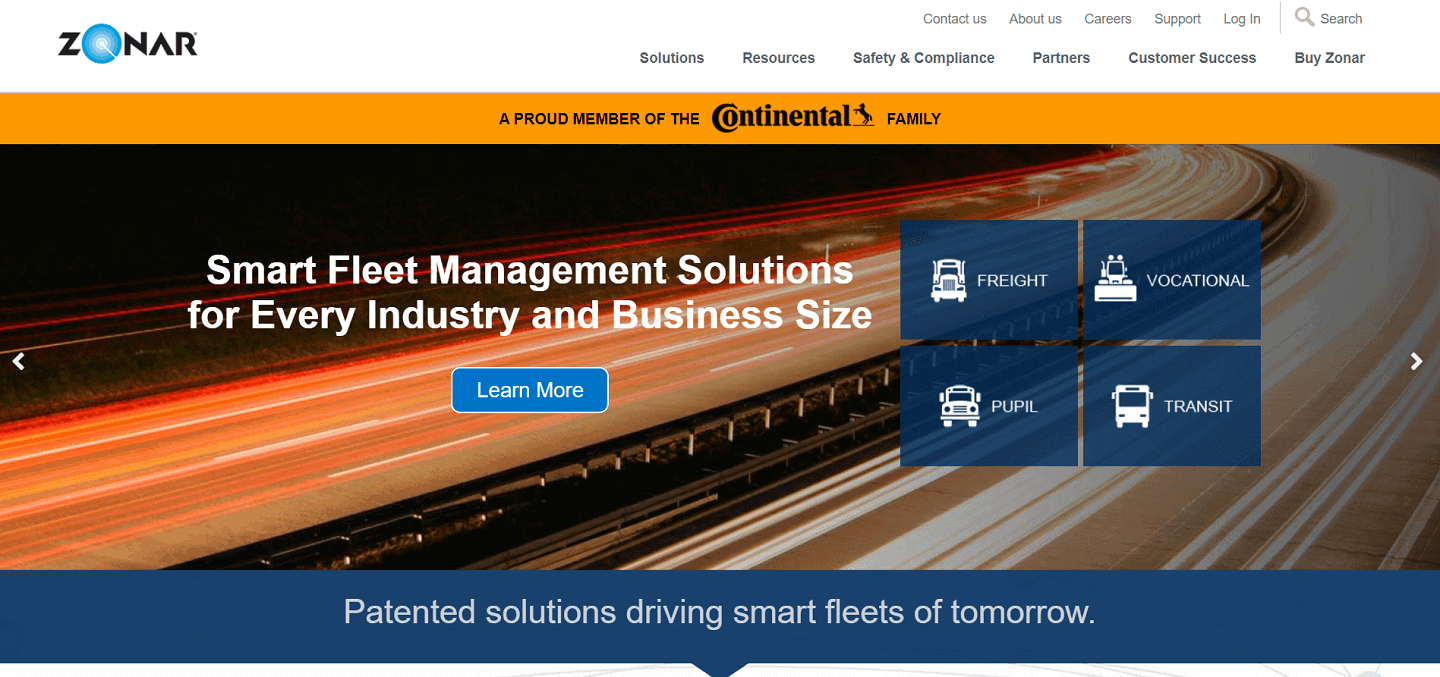 Zonar Features & Services
Fleet health
Telematics
Safety and compliance
Driver tools
Ridership
Fleet Health
Zonar offers a range of fleet health solutions that help monitor maintenance, assist diagnostics and track when work is required on a vehicle.
Zonar FaultIQ is an online predictive maintenance platform that helps you to monitor your fleet's health and ensure they are safe. You can schedule repairs and track what is happening with assets better to prevent breakdowns and disruptions, and consolidate off-road time.
They offer engine monitoring through telematics control units (TCU) which enable you to continually monitor your engines, run reports and perform expert analysis. Zonar OTAir app allows engine updates to happen anywhere using smartphone technology to prevent delays in updates and to keep vehicles on the road.
They offer a range of tools that can interact to connect your vehicles with your fleet management software including OnCommand connection to link different diagnostic systems on one portal, Cummins Connected Diagnostics with Connected Advisor to collect data, and ContiConnect Live to monitor tire pressure in real-time.
Telematics
Zonar's telematics software allows you to monitor your fleet anywhere at any time from any device and pinpoint their exact location in real-time. The software allows you to access detailed data that can help you to increase performance, safety and compliance.
The telematics software allows you to view your whole fleet on a map that automatically updates with locations. The data gathered can help you uncover hidden costs to make your fleet more efficient and enhance security as you see asset locations and history. It can also help track when inspections are required to ensure your fleet stays compliant and safe.
Telematics data can help you make more informed decisions through greater visibility of being able to see how and where your drivers spend their day, view history, examine routes, set up alerts for specific activities, monitor driver habits and coach them on fuel-efficient techniques and safety. They provide customised and intuitive dashboards to view data and produce tailored reports that can be emailed to you daily, weekly and monthly about vehicle utilisation, fuel efficiency and driver behaviour.
Safety and Compliance
Zonar offers a range of solutions to assist you in keeping your fleet safe and compliant including Zonar EVIR which is verified inspection reporting that allows you to comply with DOT, OSHA, MSHA and PTASP. It helps to ensure that have accurate and verified inspection reports that reduce the risk of failures and automate your service scheduling and reporting.
Zonar Logs helps you to ensure compliance with the latest laws and prevent violations with preemptive alerts. The data collected can allow you to identify trends and see what the most common violations are and by who. You can also monitor driver compliance and safety.
Zonar Coach is their range of dashcams that allow you to see what is happening inside and outside of the cab. The dashcams can assist with protecting everyone on the road by preventing accidents, empowering drivers and managers, exonerating falsely accused drivers and reimagining driver training.
Driver Tools
Zonar also offers a range of tools that support drivers in their role which includes Zonar MobileCommand enabling a single access point to several tools to help streamline workflow for drivers and reduce the steps they have to take. This tool interfaces with your TMS and opens communications with drivers.
They also provide advanced navigation tools to help plan safe and efficient routes which can maintain driver HoS compliance and improve driver safety. Zonar Forms help automate processes and eliminate paper forms whilst simplifying processes and tracking compliance and performance. It also allows you to message drivers. OperatorID provides driver visibility and accountability allowing you to monitor driving behaviour and it integrates with Ground Traffic Control.
Ridership
Zonar offers a range of ridership solutions that help fleet managers and drivers which includes Zonar OnRoute turn-by-turn navigation to increase fuel efficiency and punctuality. Zonar Access is a time and task management tool to assist payroll processes and manage schedules eliminating paper and manual entries.
Bytecurve is a scheduling and dispatch tool that helps to streamline your operations. It can integrate scheduling, payroll, GPS and routing to ensure that drivers are paid appropriately and mitigate against the impact of changes. It can also be used by parents to track their child's bus.
Zonar also offers software to manage electric vehicles on the same platform as other vehicles to give you a complete overview of all your fleet. It ensures proper inspections of EVIR and helps digitise drivers' tasks through productivity apps.
Zonar Reviews and Ratings
The vast majority of reviews available for Zonar are found on Featured Customers with only one other review found on Capterra.
The review on Capterra gives an average rating with an overall score of 3.0 with features and value for money receiving the 3.0 also. Ease of use and customer service didn't score as well at 2.0 each.
Featured Customer has 1,074 testimonials with an overall score of 4.7, 676 case studies also scored 4.7 and 333 customer videos scored 4.7.
Review comments include assisting us in measuring and tracking our fleet, the tools offer a wide range of uses, easy to use and useful printable reports. However, there were some negative comments about it not integrating with Chrome well and that their staff seem transient.
Trustpilot – no reviews
Capterra – 3.0/5 (based on 1 review)
G2 – no reviews
Featured Customers – 4.7/5 (based on 2,083 reviews)
Facebook – no reviews
Pros
They offer a broad range of tools that provide insight and promote safety
Offers software options that support fleet managers and drivers
Provides the ability to manage and schedule vehicle maintenance ensuring compliance
Cons
US-based company with no UK-based office
There are reports that the software doesn't integrate well with Chrome
Staff turnover seems high and may impact the continuity of service
Website: https://www.zonarsystems.com/
Disclaimer: Fleetlogging.com is a general business information website only. The material and information on this website should not be relied upon for making any business or legal decisions. We cannot recommend any company and/or product, nor assess your suitability for any product and/or company listed here.