Zubie aims to make fleet management simple with a no-fuss 'plug in, connect, and go' approach. Its technology promises to optimize your business, protect your vehicles, and crank up your utilization. You'll be able to intelligently manage your inventory and keep vehicles on the road as long as possible.
Zubie is a new company, formed as recently as 2012, but it's now backed by several industry giants and has partnerships with many big names. Do its telematics solutions live up to the hype? Is Zubie really the 'powerful future of mobility?' And are the fleet management solutions suitable for companies big and small? Let's delve into what Zubie is all about and see what the reviews say.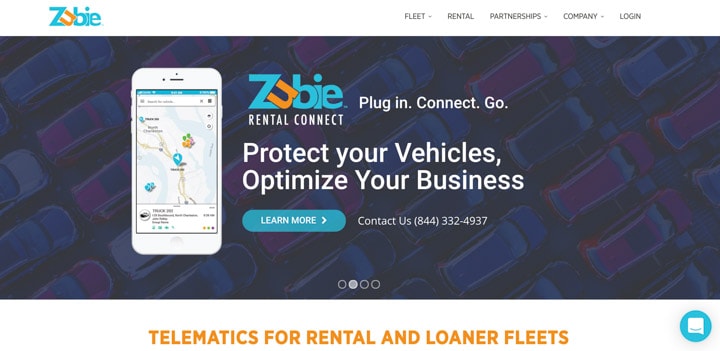 Zubie Features & Services
Vehicle Health;
Smart Maintenance;
Driver Performance;
Open API and Integrations;
Telematics for Loaner, Rental, and Business Fleets;
Geofencing and Alerts;
Driver Performance.
GPS Tracking, Geofencing, & Alerts
The small, Minneapolis-based fleet management company offers an easy-to-use GPS tracking system for fleets of every size. It believes that the product is suitable for scaling either up or down and that most fleets will benefit from the near real-time fleet tracking.
In short, this means that you'll be able to check on the live location of any vehicle, anywhere in North America, at any time. Intelligent telematics means that you can quickly locate your vehicles and drivers on the Zubie Fleet Connect Live Map, either on your desktop (in the office) or on your smartphone or tablet (on the go). Not only will you be able to locate the vehicle, but you'll also be able to quickly distinguish whether or not it's parked, idle, or currently being driven.
The technology that makes GPS tracking available is also crucial when it comes to storing past information on driver and vehicle history. Since every single detail is tracked, you'll never miss a trip taken by any of your drivers, and you'll be able to review it at any time. You can check which driver took which trip, the exact mileage, the start and end time, and even some of the driver's driving habits.
Knowing where your drivers and vehicles are located has several obvious advantages, but with near real-time GPS tracking, you'll also be able to set-up an array of super-useful alerts and notifications. These keep your team informed and ensure that you never miss a warning, event, or incident. And, conveniently, you'll be able to see exactly where the incident took place within a matter of seconds.
This constant stream of live driver information helps you establish a solid relationship with your customer base – you can provide them with highly accurate ETAs and quickly inform them of any delays or complications with deliveries. Once deliveries have been made, you can even customize the system to send an automatic notification.
But Zubie has made it even simpler still with geofencing technology. You have the option to create unlimited geofencing boundaries and alerts that instantly notify your team when a driver has either entered a restricted area, left a delivery point, or arrived at a common location. You can even view the events on a street-level Google Maps view for extra detail.
Vehicle Health
Zubie's Fleet Connect fleet tracking system keeps on top of your fleet's health 24/7. Minimize unexpected downtime, keep your vehicles operating as they should be, and enjoy a super-efficient fleet that spends as much time on the road as possible.
All of this begins by staying on top of crucial vehicle maintenance. Preventative maintenance is no longer a chore – Fleet Connect takes care of it for you. Your team will get reminders when essential service needs are due, and you can even opt to customize service schedules for individual vehicles through the app. A personal service diary means that you always have a track of the work that's been done, and the work that needs to be done in the future. For larger fleets, this essential data makes is so much easier to organize hundreds of different vehicles.
On top of that, Fleet Connect tracks engine health so that any engine issue or warning light is immediately addressed. It tracks battery levels, monitors fuel levels, and even locates the nearest gas station. And the best part is that no expensive hardware is required – all you need to do is plug the Zubie key into the ODBII port of the vehicle you'd like to track, and you're good to go. Everything else is done through the app.
Driver Performance
The ability to constantly monitor your vehicles also makes it possible to analyze every second of your driver's journey. The Zubie Crew app provides personalized insights for each driver related to their driving activity, driving performance, and, importantly, on-the-road behavior.
First of all, you can analyze trip history and plan future routes more efficiently. This weeds out any gas-guzzling habits your drivers may have and reduces your fleet's overall costs. You can oversee any unnecessary acceleration, excessive idling, and other detrimental driver habits that are both dangerous and costly for your fleet.
Ultimately, the tools will help you coach better driver behavior and increase overall fleet safety. The unique Driver Score summarizes your driver's behavior, and instant alerts notify your office team of harsh braking, speeding, and other dangerous habits.
Weekly and monthly reports also present this information in an easy-to-digest and simple format. You can spot trends, identify driver coaching opportunities, and even customize your own reports to really get into the nitty-gritty of your team's driving ability.
Open API and Integrations
One of the disappointing aspects of Zubie's fleet management platform is that there are no patented dashcams on offer, and there is no obvious ELD Solution. However, there is still an opportunity to incorporate these technologies by integrating established third-party solutions.
Zubie's officially certified third-party apps and open integrations make it easy to extend Zubie to fit your business needs. You can incorporate a dispatch system, hook-up some dashcams, and marry Zubie Fleet Connect with an ELD solution. Open API's are free and included in your Zubie subscription.
Zubie Reviews and Ratings
Zubie's reviews are a mixed bag. For every positive review, there seems to be a negative review, and there's consistent confusion over some of the contract terms and renewal conditions.
TrustPilot reviews score a lowly 3.4/5, based on a decent sample size of nearly 200 reviews. 1* reviews all point to a poor customer service experience, and, surprisingly, a system that seems to quickly drain the battery of their vehicles. There are further complaints of technical glitches and a system that 'doesn't work.' Positive reviews, on the other hand, find little to complain about and confirm the system does 'everything expected of it', but there are still enough negative reviews to cause concern.
There are no reviews for Zubie on Capterra, so instead, we'll focus on the reviews found on Capterra's UK site. Here, the reviews are again below expectations at 3.8/5. Familiar complaints appear, with users lamenting a poor customer service team. They point out poor customer loyalty and regularly mention technical glitches or specific features of the app that don't work. Interestingly, many of the reviews that come from small fleets and teams love the product, and can't speak highly enough about it.
There's only one Zubie review to analyze on the G2 platform but, nonetheless, it's a glowingly positive one – again, from a small business. That user describes Zubie as the "best fleet management & GPS tracking software" available for a small business. Even then, there's a tiny mention of fleet data that isn't 100% accurate.
Facebook reviews for Zubie are the poorest of them all. Granted, there are only 6 reviews in the sample size, but the average score is astonishingly low at 2.7/5. Bad customer service, faulty items, confusing subscriptions, and delayed alerts are all included in the reviews.
Zubie offers a budget-friendly way to track your fleet of vehicles and monitor driver behavior. It can be incorporated with third-party technologies and keeps your fleet connected and safe. However, there are certainly a few issues that the team should look to address in order to improve the overall user ratings and make it a more reliable package.
TrustPilot – 3.4/5 (based on 198 reviews)
Capterra (UK) – 3.8/5 (based on 15 reviews)
G2 – 5/5 (based on 1 review)
Facebook – 2.7/5 (based on 6 reviews)
Pros
A budget-friendly, low price fleet management solution that can be scaled up or down depending on the size of your fleet;
Handy driver coaching tools and Drive Scores that incorporate friendly competition;
Several useful fleet management features all located in one easy-to-use app;
No hardware required – a simple key plugs into your vehicle for super-quick installation.
Cons
A lack of ELD Compliance directly through the Zubie system – only available when hooked up with third party solutions;
No dashcam solutions through Zubie itself – you need to install a third-party dashcam;
Poor customer service and an array of technical glitches;
GPS tracking isn't 100% reliable;
Seems to be suited to smaller fleets and teams.
Website: https://zubie.com/
Disclaimer: Fleetlogging.com is a general business information website only. The material and information on this website should not be relied upon for making any business or legal decisions. We cannot recommend any company and/or product, nor assess your suitability for any product and/or company listed here.