Motive is one of the leading fleet management platform providers which was formally called KeepTruckin. They pride themselves on offering you everything you need to manage your fleet on a single platform. Its products are trusted by over 120,000 companies from small businesses to Fortune 500 businesses.
Motive was formed in 2013 as KeepTruckin and has become a market leader that has developed a range of different fleet management features and services. From analysing historical data to ELD compliance, smart dash cams and real-time GPS tracking, Motive's products have every angle of fleet management covered.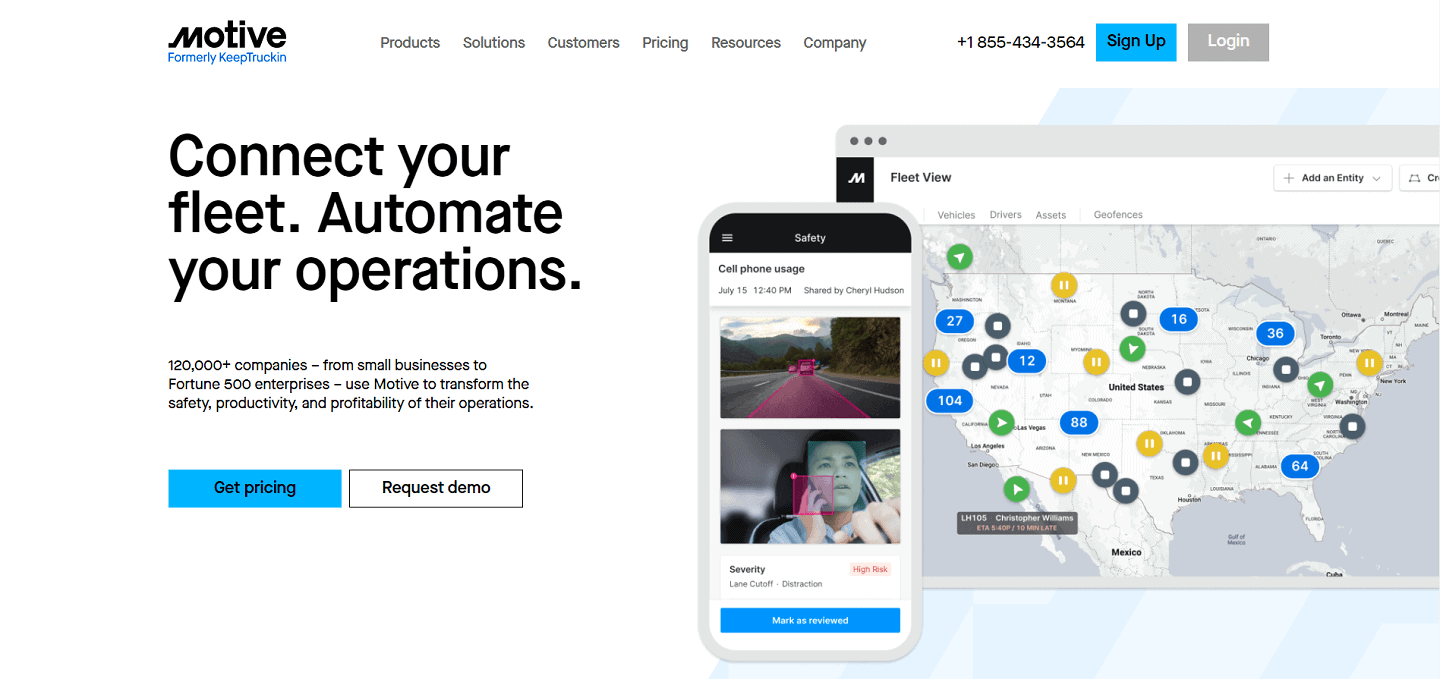 Motive Features & Services
GPS Tracking;
Driver Safety;
ELD Compliance;
Dispatch and Workflow;
Maintenance and Fuel;
Smart Dash Cam;
Fleet Safety and Coaching;
Vehicle Diagnostics;
GPS Tracking
In its simplest form, Motive's GPS tracking allows your team to track every vehicle and asset in one intuitive place. Live tracking of drivers, vehicles, and even assets has been proven to save fleets time and money. GPS location alerts immediately inform office teams of any vehicle activity or incident.
This is achieved with a few different technologies. First of all, the Motive Vehicle Gateway tracker is installed within the vehicle cabin. This is a simple installation procedure that uses the vehicle's diagnostic port. Once the tracker is connected, it is assigned within the Motive platform. From that point on, every single detail of the vehicle's activity is recorded and displayed in real-time.
Telematics technology encrypts and transmits the data from the vehicle tracker back to your fleet management office. So long as the tracker has a cellular signal, it transmits data. The main purpose of this technology is to track your assets with high levels of accuracy and maximize the efficiency of your fleet.
But that technology also allows your team to store tracking data and view historical routes at a later date. Drivers can share live locations, handy geofencing alerts can be assigned, driver performance is recorded, and that crucial data even feeds utilisation reports. Vehicle maintenance and planning are other included benefits.
So, as well as showing a live map of your vehicle location and keeping your remote team up-to-date, Motive's GPS tracking also improves operational efficiency and highlights valuable fleet opportunities.
Driver Safety
Motive put a firm focus on driver safety, and one of the best ways to monitor and improve driver safety is with an AI-powered fleet safety solution. Their AI dash cam technology is the most advanced and can empower your fleet, keep your drivers safe, and protect your company.
Intelligent dash cams, installed within the driver's cab, can be configured to face in both directions. Distracted drivers and unsafe driver behaviours are immediately captured and alerts can be raised as well as providing automated coaching. Tools such as video recall and live stream provide businesses with complete visibility and enable footage to be used for driver coaching or driver performance analysis.
But intelligent dashcams focus on the road as well. Driving events are automatically detected, recorded, and sent to your team with a description of the event. In court cases, this evidence is priceless: your innocent drivers are exonerated and your brand is protected.
Office teams can access the video remotely in the cloud and see exactly what the drivers see in real-time or historically.
ELD Compliance
Motive prides itself in offering compliance, reporting and insights all in one place that can assist businesses in optimising their fleet, minimising violations and improving compliance. They provide an app that is loved by drivers as it is easy-to-use and reliable for completing their logs and inspection reports faster.
Through the digitisation of driver logs and vehicle inspection reports, it removes manual work and human error as well as making completion faster and more compliant as there is greater visibility and control. The platform even supports roadside inspections with its handy Inspection Mode to support drivers.
The hours of service (HOS) solution allows you to set alerts and notifications of pre-violations allowing drivers time to park the vehicle to rest and alerts can also be set centrally to your office. They even provide a team mode to allow multiple users to use the same device and switch between driver profiles in the driver app.
Dispatch and Workflow
If this all sounds complicated so far then don't worry. Motive keeps all of its processes simple, and none of them are simpler than its dispatch and workflow tools. Motive's workflow is seamless allowing you to organise, assign and optimise on-time deliveries through their cloud-based dispatch management.
Your team can streamline operations and simplify daily tasks with their fully integrated platform. Auto-dispatch considers Hours of service (HOS) and GPS location before assigning jobs and even identifies the most efficient route based on current traffic conditions. It can automate processes, reduce waste, optimise vehicle usage and cut costs.
Documents can also be automatically uploaded to the app, photos and receipts are stored in the same portal, the interface is user-friendly, and forms can even be customised to suit your operations.
Smart Dash Cams
Utilising smart dash cams in your fleet can protect both your bottom line and your drivers. Motive offers an AI-powered fleet safety solution that can help prevent accidents and exonerate drivers if incidents occur. This can result in reduced insurance costs.
But dash cams are not only about monitoring the outside environment and protecting your business in the event of an incident. In-cab driver-facing cameras can assist in making your fleet safer by making driver habits better through automated coaching. Their AI dash cams can detect unsafe driving behaviour and send real-time alerts to drivers as well as the office.
Footage recorded by the dash cams is uploaded to the cloud within seconds allowing you to access video footage almost instantly using tools like video recall and live stream to improve the visibility of your fleet. These videos can be used to support any claims from third parties or driver coaching including benchmarking driver performance and assigning risk scores.
Asset Tracking
Motive also offers high-quality and reliable asset tracking. A different type of tracker is used for remote, stationary vehicles which is called the Asset Gateway tracker. The Asset Gateway works alongside the Vehicle Gateway trackers and connects to the Motive platform.
It incorporates geofencing technology. This allows you to send the loading team to help the vehicle as soon as it enters the designated area. But that same technology also notifies you when foreign vehicles enter your protected area and helps to prevent theft.
As with vehicle tracking, you can monitor asset location and gain insight into its location history and utilisation which can help you to optimise your assets. You can use pre-existing reports or customise reports by grouping data.
Motive Reviews and Ratings
Across all the review sites Motive is one of the most favourably reviewed fleet management companies in the industry with all platforms receiving overall positive review scores about their products. Many of the reviews compliment them for their reliable technology, high-quality products, innovation and effectiveness. In the small number of complaints, there is consistent feedback about their customer service team underperforming and some contractual issues.
Motive has a large number of reviews on Trustpilot which is one of the leading trusted review platforms which gives them an overall great rating with a score of 4.0 out of 5. 69% of reviewers score them as excellent and 15% as bad. Feedback includes effective paperless logs, ease of set-up, supportive customer service, and durable hardware.
Capterra reviews provide a slightly more positive picture with a higher overall score of 4.5 out of 5 with a large pool of customer reviews. Users comment on the easy-to-use platform and reliability of the software as well as its flexibility and great insights it provides. The only slight detractions are that some have had issues with contracts and slow customer service responses.
G2 also provides positive reviews but the number of reviews is much smaller. The overall score is 4.2 out of 5 with reviewers' comments including compliant software, excellent reporting, a user-friendly platform and supportive staff. Some slight detractions include the reliability of vehicle gateways and poor customer service.
Finally, Featured Customers provides the highest overall score of 4.8 out of 5 with a large number of customer testimonials and case studies praising the products that they provide.
In April 2020, Tech Radar took the time to review the then-called KeepTruckin. In one line, they decide that KeepTruckin is "a trusted brand which provides an affordable and intuitive fleet management solution."
Tech Radar identifies a great value-for-money fleet management solution that has countless benefits for fleets of all sizes:
"One of the reasons why KeepTruckin is famous in the trucking industry is that its interface is straightforward and easy to use, both on the admin side as well as at the driver's end. Since it is compliant to FMSCA requirements, it becomes a compelling choice for many fleet owners."
Trustpilot – 4.0/5 (based on 2,013 reviews)
Capterra – 4.5/5 (based on 1,354 reviews)
G2 – 4.2/5 (based on 146 reviews)
Featured Customers – 4.8/5 (based on 1,940 reviews)
Pros
An easy-to-use, intuitive and user-friendly fleet management solution
Effective and reliable ELDs that record hours of service and vehicle inspection reports
A powerful GPS dashboard that enables you to track drivers, vehicles and assets on a single dashboard
Smart dash cams that can improve safety, assist with driver coaching and exonerate drivers in the event of an incident
Highly rated in customer reviews
Cons
Customers have reported occasional glitches that can take time to identify and resolve
Some issues with contracts and the sales team have been highlighted in reviews
The customer service team can be unresponsive at times according to some reviews
Click For An Exclusive Motive Discount
Website: https://gomotive.com/
Disclaimer: Fleetlogging.com is a general business information website only. The material and information on this website should not be relied upon for making any business or legal decisions. We cannot recommend any company and/or product, nor assess your suitability for any product and/or company listed here. Please note we also have an affiliate relationship with Keeptruckin.