Fleetio, founded as recently as 2012, has wasted no time in becoming a capable and popular fleet management provider. Fleetio is passionate about making it easy to manage a fleet and, so far, more than 250,000 customers and vehicles would appear to agree.
Based in the United States, Fleetio uses simple software to keep fleet teams informed and organized with everything they need in a central location. But do the solutions work? Is the technology reliable? Should your fleet invest in Fleetio's suite of products? And is there anything missing? Today, you'll find out everything you need to know.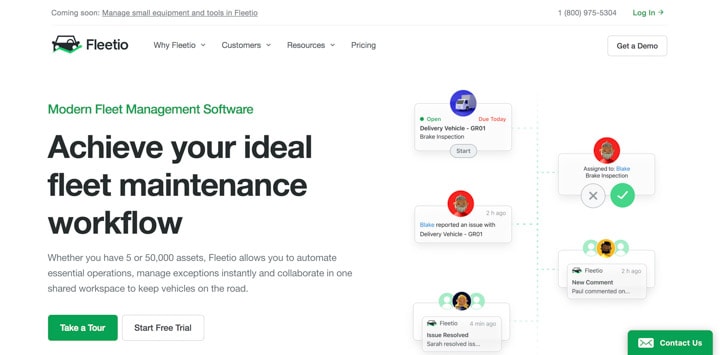 Fleetio Features & Services
Fleet Management & Maintenance;
Preventative Maintenance;
Fuel & Equipment Management;
Reporting;
API & Integrations (including ELD);
GPS & Telematics;
Scheduling & Inspections;
Assignments & Orders;
Vehicle Lifecycle Management.
GPS & Telematics
Fleetio's software puts a firm focus on fleet GPS asset tracking, allowing your team to manage anything and everything that affects your business from one convenient location. As with many other fleet management providers, many of Fleetio's most advanced fleet technologies begin with GPS and telematics.
To begin with, you can store all of your fleet data in one centralized location. Everything from license and registration renewals all the way to telematics data and notes are assigned to each vehicle within the database and constantly tracked. Having this vital information at hand makes it easy to get the most out of your assets. Schedule jobs, assign drivers, and gain visibility into which assets are being underutilized.
So as well as storing the systematic information for each driver and vehicle, you'll be able to store daily activities that you can then review to spot trends and opportunities. Location history, breadcrumb trails, fuel expenses, and more can be saved, searched, and filtered within the system.
Fleetio doesn't offer a trademarked GPS tracker, but the majority of existing GPS hardware is compatible with Fleetio's package. For instance, some of the biggest names in GPS tracking can easily be integrated with Fleetio including Geotab, KeepTruckin, Samsara, Teletrac Navman, Verizon Connect, and more.
Combining those third-party technologies with Fleetio, no aspect of fleet activity will go unnoticed. This is crucial when it comes to monitoring vehicle health and keeping your assets on the road as often as possible. You'll receive instant alerts for DTC codes and engine faults, and a full maintenance plan will be stored within the system anyway.
And, when it comes to keeping things simple, Fleetio has your team covered there as well. The bird's-eye view of your fleet is straightforward and easy to navigate on maps. Find out exactly where your drivers are, what their daily plan looks like, how congested their live route is looking, how efficiently they carry out tasks, and whether or not there are opportunities to improve operations across the board.
Reporting
Fleet data can be overwhelming – especially for medium-to-large-sized fleets. Fleetio again makes analytical reporting as simple as possible, increasing the visibility into your fleet across the entire organization. As well as keeping you informed in real-time with metrics-at-a-glance and instant alerts, you'll be able to customize the data you want to see in greater detail later.
Fleetio's simple, intuitive reports cover every tiny detail you need to know about your fleet, all the way from the cost per kilometer to maintenance trends and even downtime. You can keep your team accountable and actionable in real-time while also planning bigger changes based on the crucial fleet data you accrue over time.
It goes without saying that tracking your operational costs is important – fuel consumption trends and efficiency reports will help you greatly reduce unnecessary expenditure. But you'll also be able to keep tabs on the utilization details for each vehicle and adjust routes and dispatch details as required. Reports will become a regular part of your fleet's planning operations, and they're sure to help you maximize productivity.
API & Integrations (including ELD)
Similar to GPS trackers, Fleetio doesn't include a patented ELD product for its customers. Instead, they make sure that the technology they do offer is fully compatible with the most advanced, user-friendly ELD solutions on the market.
Put simply, Fleetio markets itself as an "agnostic, open software provider that allows users to integrate with other technologies, like an ELD, using our open API." The fleet maintenance software that they offer allows your team to choose the best solutions for your business and centralize them on the Fleetio platform. It's the best of both worlds, and Fleetio even goes so far as to list their recommended telematics partners that have ELDs as a component of their solution. You can rest assured that these solutions perfectly integrate with Fleetio software.
This also represents a cost saving. Not only will your team improve fleet visibility and optimize daily workflows when you connect your existing telematics hardware, but you'll also be re-using the existing equipment that your team is already familiar with, saving money when it comes to purchasing hardware and training staff on new technologies.
Vehicle Lifecycle Management
One of the more unique fleet management services offered by Fleetio is its vehicle lifecycle management. While many other telematics providers focus on real-time tracking, video telematics, driver safety, and more, Fleetio does all of that and more by including several useful tools that help you manage the whole-life cost of your vehicles on the road.
You can manage your vehicles all the way from acquisition to disposal. First of all, you'll see a full financial picture of your fleet ownership with useful reports that detail every expense and operating cost. Then, you can track the market cost of your vehicle in real-time and respond to ever-changing market conditions and current wear-and-tear on your vehicles.
Third-party maintenance processes and programs can easily be integrated into Fleetio's package, giving you all the tools you need to make informed business decisions about your most prized assets over their entire lifecycle.
Fleetio Reviews and Ratings
Fleetio scores well with honest customer reviews and ratings. Surprisingly, there are no reviews to consider on the reliable, ever-present TrustPilot platform. We look forward to Fleetio committing to user reviews there and adding to their feedback portfolio.
Thankfully, there are plenty of Capterra reviews to analyze, and they paint a glowing picture of Fleetio's service and solutions. With an impressive average score of 4.8/5 from 160+ reviews, the majority of users have nothing but compliments for the Fleetio team. It's notable that the Fleetio customer service team receives constant praise, where it is normally the opposite for many other fleet management providers. Users also enjoy the ease of organization available through the software, how easy it makes it to manage fleets, and powerful scheduling and reporting capabilities.
G2 reviews are similarly positive, although they come from a much smaller sample. From just 11 reviews, G2 users leave Fleetio with an average score of 4.5/5. Quality of support, ease of use, simple migration with existing hardware, and accurate GPS locations are regularly mentioned.
On top of that, there are a number of user testimonials on Fleetio's website. Unsurprisingly, these all paint an incredibly positive review of Fleetio. While the feedback is indeed reassuring, it doesn't come from a neutral source and therefore we can't give the information significant weight.
Contrarily, Rob Watts of PC Mag leaves another impressive, impartial review of Fleetio:
"Fleetio is excellent fleet management software that can help you manage every aspect of your company's fleet operations. Novices might get overwhelmed at first at the amount of data available, but Fleetio helps you handle it all with ease, which earns it our Editor's Choice."
TechRadar's Jitendra Soni still leaves a positive review, although the rating is slightly lower at 3.5/5″
"A comprehensive fleet management solution that lets you track almost everything in terms of your moving assets."
Fleetio provides users with a huge range of game-changing fleet management services, and few clients regret their subscription. As they continue to grow in the market, it will be interesting to see if Fleetio decides to develop and market some of its own technologies and hardware solutions to complement an impressive software package.
Capterra – 4.8/5 (based on 162 reviews)
G2 – 4.5/5 (based on 11 reviews)
Pros
Huge range of fleet management solutions and tools and, where a particular service isn't offered, it can easily be integrated with third-party providers;
Additional fleet management services including vehicle lifecycle management and more;
Simple, user-friendly software that centralizes all of the vital fleet data that you might need;
Powerful reporting tools that provide you with unparalleled insight into your whole fleet operation.
Cons
One or two minor reports of glitchy software;
Not as many products offered as other fleet management providers since the focus is on software instead of hardware;
Dependence on third-party providers for ELD compliance and hardware.
Website: https://www.fleetio.com/
Disclaimer: Fleetlogging.com is a general business information website only. The material and information on this website should not be relied upon for making any business or legal decisions. We cannot recommend any company and/or product, nor assess your suitability for any product and/or company listed here.